Super Smash Bros. for Wii U Update: April 15th 2015
A software update is now available that introduces new features and adjustments to enhance the overall experience. Please start the game while your Wii U console is connected to the internet to update the software. The software version after this update will be 1.0.6.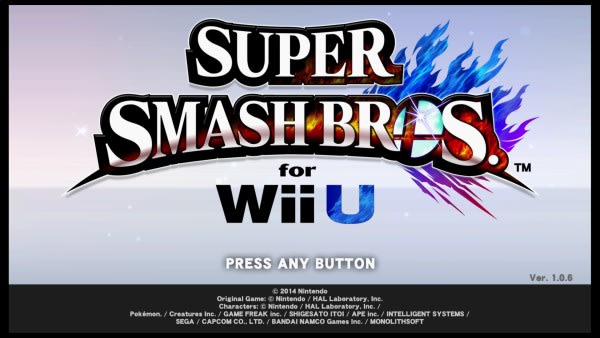 Update contents
Adds ability to purchase add-on contentBy visiting Nintendo eShop, it's possible to purchase add-on content such as Mii Fighter outfits and additional fighters.

Adds the Share mode, allowing you to share snapshots, replays, Mii Fighters and custom stages with other players around the world. You can also search for and download data that has been posted by other playersPlease note: you can only post data you have created yourself, and uploaded content will be deleted from the server after 30 days.It's also possible to send snapshots, replays, Mii Fighters and custom stages to your friends. When connecting to the internet from Super Smash Bros. for Wii U, the game will check for new data. Downloading received data may take some time. If you don't download data within 30 days, it will be deleted from the server.Snapshots will be posted in the Snapshot Sharing Community, and custom stages will be posted in the Stage Sharing Community. When viewing a stage screenshot uploaded to this community on your Wii U console, you can select the Start icon to jump to the Super Smash Bros. for Wii U software. From there, you can download the actual stage to your console.

Adjusts the game balance

Adds the following stages to 8-Player Smash:

Delfino Plaza

Port Town Aero Dive

Woolly World

Orbital Gate Assault

Wii Fit Studio

Pilotwings

Other adjustments have also been made to balance the game and make for a more pleasant gaming experience
Please note: a minimum of 1.3 GB available storage is required to perform this software update. Depending on the Wii U hardware pack you own and your use of it, an additional storage device may be required. Please visit our Storage section for details about additional storage devices.