Splatoon Software Update: July 1st 2015
A software update is now available that makes several adjustments to enhance the overall experience. Please start the game while your Wii U console is connected to the internet to update the software. The software version after this update will be 1.3.0.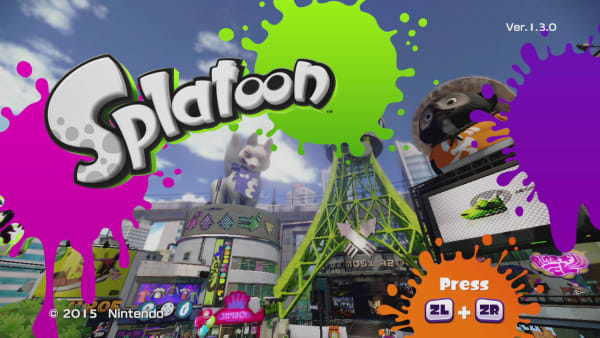 Update contents
Changes to Splatfests
In cases where matchmaking takes a long time, due to a lack of players on the opposing team, a match between players who voted for the same side will take place.

You can still earn Splatfest points when playing against others who voted for the same side.

Final Splatfest results only take into account the outcomes of matches between players on opposing sides of the Splatfest topic.

If you launch the game before the Splatfest's start time, it may be possible to join the Splatfest up to five minutes early. All players will be able to join at the official start time. This is to ensure players can smoothly join the Splatfest.

Increases the number of Super Sea Snails you can receive if you have achieved the title Eternal Boy/Eternal Girl or Charismatic Boy/Charismatic Girl and your team loses
Changes to special weapons
Inkstrike: Corrects a bug where the size of the inked area would differ greatly depending on the impact location

Kraken: When hit in Kraken form, you will be knocked back further
Changes to gear abilities
Ninja Squid: Reduces dash speed in squid form

Stealth Jump: Increases the length of time it takes to Super Jump

Ink Resistance Up: Reduces the ability's effect on damage and movement speed while in enemy ink
Other changes
Introduces several enhancements to improve the user's experience and enjoyment
Additional information
Downloading updates will not affect any of your saved data.