Nintendo Switch Sports FAQ
Which controllers and play styles are compatible with Nintendo Switch Sports?
Depending on the sport selected, Nintendo Switch Sports supports paired Joy-Con controllers, single Joy-Con controllers, and Joy-Con + leg strap setups. Nintendo Switch Pro Controllers are not compatible.
Nintendo Switch Sports does not support handheld mode. For the best play experience, use a Nintendo Switch or Nintendo Switch – OLED Model system in TV mode.
What can I do if my character isn't performing the correct actions when I move the Joy-Con controller?
Follow our steps for when Joy-Con Motion Controls Are Not Responding Correctly.
If the issue only occurs when using the leg strap accessory, make sure that the strap is properly attached. Attach the leg strap to the center of your left or right thigh and attach a left Joy-Con so that it faces forward. If the Joy-Con is not facing forward, it may be difficult for it to respond to a kicking motion.
Can I use voice chat when playing online with others?
Yes, voice chat is available in "Play with Friends" through the Nintendo Switch Online smartphone app. A Nintendo Switch Online membership is required to play online and use the smartphone app. Users with Nintendo Accounts under the age of 13 cannot use voice chat.
Why can I only play a trial when I select "Play Globally"?
An active Nintendo Switch Online membership is required to play Nintendo Switch Sports online. If you do not have a Nintendo Switch Online membership, you will be able to play a trial competition against computer competitors when you select "Play Globally".
If you have a Nintendo Switch Online membership, please be sure you have selected the correct user when opening the Nintendo Switch Sports software. If you have just newly started a membership, close the software and try again after a short time.
When playing online, why is a Wi-Fi signal icon displayed in the corner of the screen?
When the connection quality of one or more participants (including yourself) is low, an icon will be displayed in the bottom right corner of the screen. If you notice this icon displaying frequently, we recommend troubleshooting your network environment.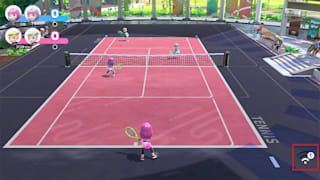 How do I switch to Leg-Strap Mode in Football?
In Football, you can play with the leg strap attached to your leg. You'll need to adjust the settings depending on which game mode you are playing:
Play Globally: On the sport-selection screen, highlight Football and press the X Button.

Play Locally and Play with Friends: On the screen showing how to hold the Joy-Con controllers, press the + Button.
Why did I receive the message "Your Joy-Con's connection is unstable." while playing?
If you receive this message, it's possible that there may be wireless interference issues between the Nintendo Switch console and the Joy-Con controllers.
If this message appears regularly and you notice that characters don't move correctly when shaking the Joy-Con, we recommend troubleshooting for wireless interference.