Downloaded software and screenshots can be saved to a microSD card (sold separately). We recommend using a microSD card if you're running out of space in the console's system memory and want to download software from Nintendo eShop.
Supported microSD cards
The following types of microSD cards are supported on Nintendo Switch:
microSD (up to 2 GB) 

microSDHC (4 GB - 32 GB) 

microSDXC (64 GB and above) 
In order to use a microSDXC card on the Nintendo Switch console, a system update is required.
In order to improve your gameplay experience, using a microSD card with a higher transfer speed is recommended.
High-speed microSD card guidelines:
UHS-I (Ultra High Speed Phase I) compatible 

Transfer speed 60 - 95 MB/sec (the higher the transfer speed, the better gameplay experience on Nintendo Switch) 
If the microSD card runs out of free space
If you run out of free space on your microSD card, you can transfer the data to a higher-capacity microSD card using a computer.
You can also use two microSD cards at the same time without transferring any data, but please be aware that you won't be able to consolidate data saved in this way onto one microSD card at a later date.
The microSD logo, the microSDHC logo and the microSDXC logo are trademarks of SD-3C, LLC.
How to Insert/Remove microSD Cards
Gently swing the stand open on the back of the console to show the microSD card slot.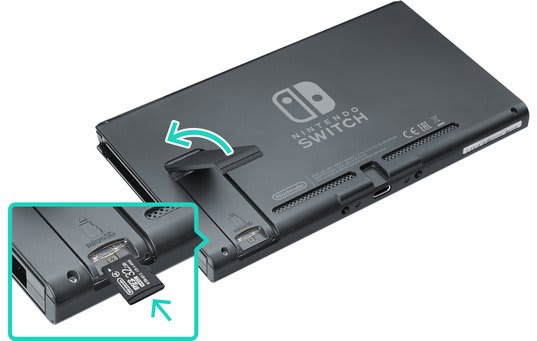 To insert a microSD card.Ensure the microSD card is properly positioned with the label facing away from the console. Then insert it into the microSD card slot and gently push down until it clicks into place.  

To remove a microSD card.Gently push down on the top of the microSD Card until you hear a click, then slide it out of the microSD card slot. 
How to Format a microSD Card
The ability to format microSD cards on Nintendo Switch is made available after performing a system update.
From the HOME Menu, select "System Settings." 

Scroll down the options on the left and select "System." 

Scroll down the options on the right-hand side and select "Initialize."

If prompted, enter your Parental Controls PIN. 

Select "Format microSD Card," then "Continue."Important: The following message will be displayed, "All data on the microSD card will be deleted. Data cannot be restored once it is deleted. Continue?" 

To continue, select "Format." The console will then restart.