How to Change the Control Stick Orientation on the Joy-Con Controller
In this article, you'll learn how to change the Control Stick orientation on the Joy-Con controller.
Important
While this option can be enabled at any time, it is meant to be used with software played with the Joy-Con controller in solo horizontal grip.

This option will not work optimally if the Joy-Con is either attached to the system or used in solo remote grip or in dual controller grip.

With this option enabled, only the control stick orientation changes. The button inputs will remain the same as when the controller is in solo horizontal grip. 
Complete these steps
For optimal use, ensure the Joy-Con is detached from the console and set in solo horizontal grip.

From the HOME Menu, select Controllers, then Change Grip/Order.

Hold the Joy-Con horizontally and press the SL Button + SR Button.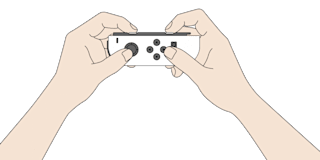 Joy-Con being held in a solo horizontal grip
Solo horizontal grip will be confirmed on the bottom-left corner of the screen.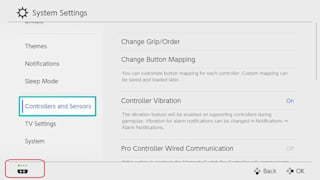 System Settings with Joy-Con controller in solo horizontal grip
Return to System Settings and select Controllers and Sensors. 

Select Change Button Mapping. 

On the left side of the screen select a controller, then select Change. 

Select Control Stick Settings. 

Select Change Orientation.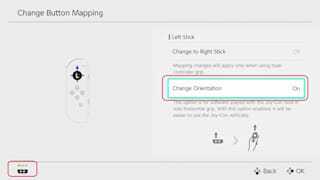 Button Mapping: Changing the left stick input side
Select Back, then select Done to confirm.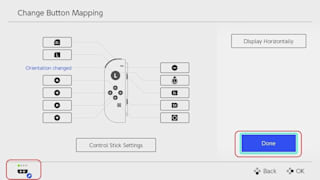 Button Mapping: Joy-Con controller in solo horizontal grip with left stick orientation changed
Important
Be sure to perform this last step, otherwise the new setting will not be applied to the Joy-con.
Remember that once this setting is enabled, the control stick orientation is changed. However, the button inputs remain the same.