How to Adjust Nintendo Account Profile Settings (Country, E-mail, Etc.)
Step by step instructions on updating the information associated to your Nintendo Account.
Notes:
Profile information on a child's Nintendo Account can be changed through the child's account or through the parent/guardian's Nintendo Account. 
Complete these steps
Go to thea Nintendo Account website and sign in to your Nintendo Account.

You can also access your profile settings through the My Nintendo website by clicking your username in the upper-right corner, then My Nintendo Settings.

 

Choose from the following sections: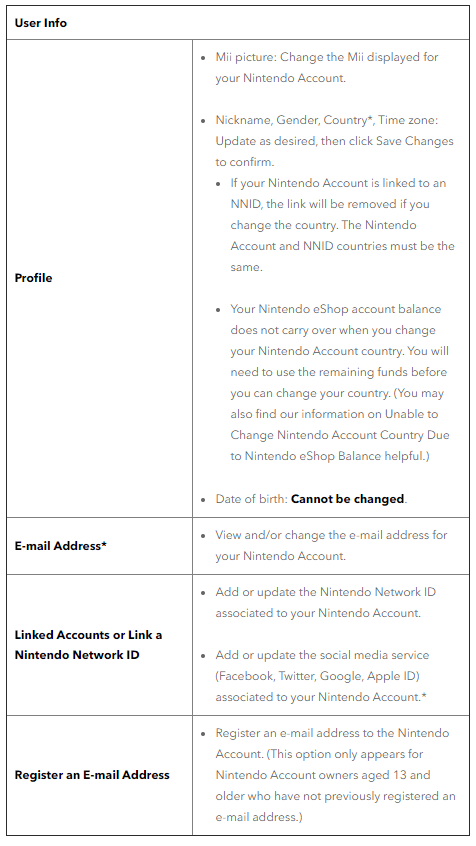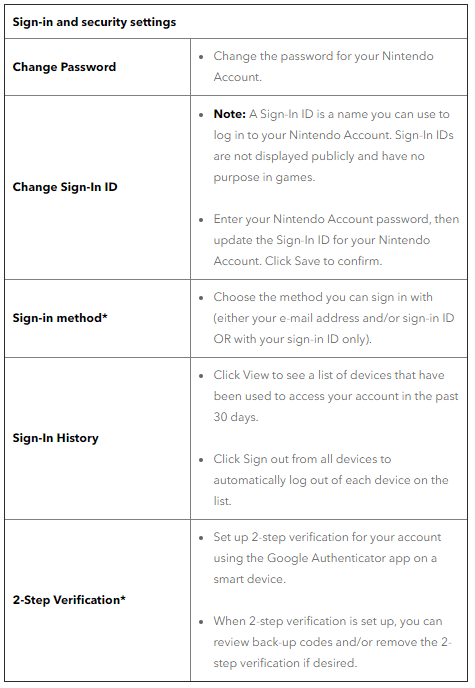 Parental Controls**
This section displays the Nintendo Account(s) for your parent / guardian, and any restrictions they have set. There are no additional actions that you can take.
Family Group
View the current members and roles in your family group.

Leave the family group*.

Parent/guardian Nintendo Accounts can click a supervised account to adjust the following settings:

User info: View or change the supervised account's Nickname, Mii, Gender, or Time Zone. (Note: A Nintendo Network ID can only be linked or unlinked by signing in to the supervised Nintendo Account.)

Sign-in and security settings: View or change the child's Sign-in ID or Password, and view their Sign-in history for the past 30 days.

Set Nintendo eShop restrictions.

Other settings: Enable or disable the Friend suggestions feature, manage Nintendo Account information that can be shared with third parties, or delete the child's Nintendo Account.
An admin Nintendo Account can perform the following functions:

Add a new member to the group

Re-assign the role of the family group admin

Remove a family group member

Set a parent / guardian Nintendo Account

Set a supervised account

 
Shop menu
View your current Nintendo Account balance.

Review and/or delete stored credit card and PayPal information.

The following will also appear if you have linked an NNID to your Nintendo Account:

Just for You offers: View the current Just For You discount offers you qualify for through My Nintendo rewards or special promotions.

Information About Account Activity: View information about how to review transactions made through your Nintendo Account and/or NNID linked to your account. (Note that the transactions themselves do not appear here.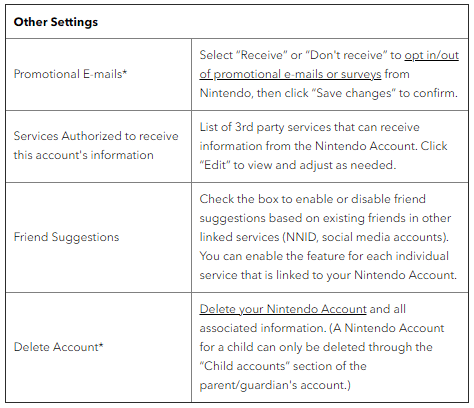 Check in
Display a QR code specific to your Nintendo Account, which can be used to check in at select Nintendo events and locations.

Checking in gives you access to exclusive My Nintendo member benefits that may be available.
*This option is not available in a supervised Nintendo Account.
**This option is only available in a supervised Nintendo Account.