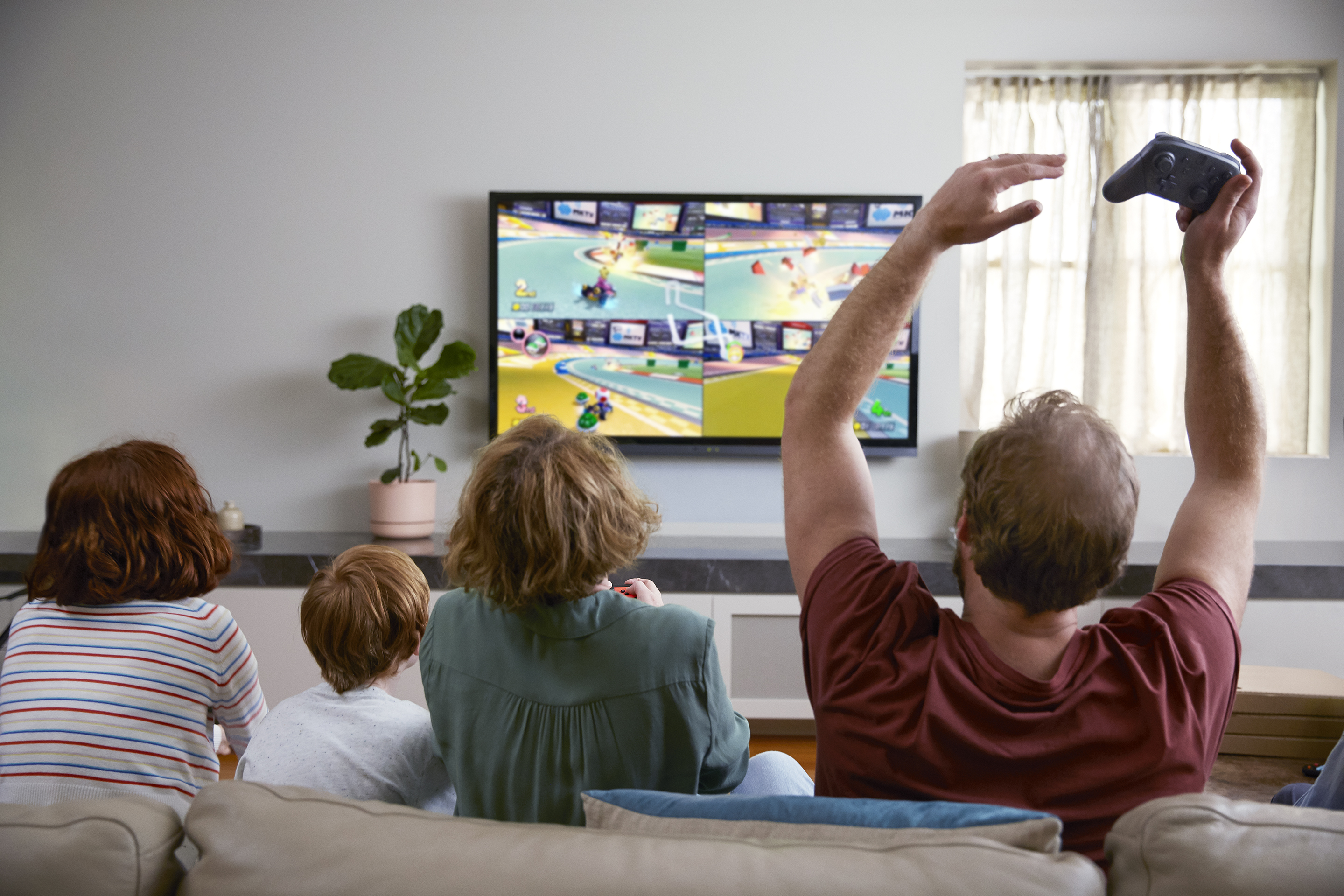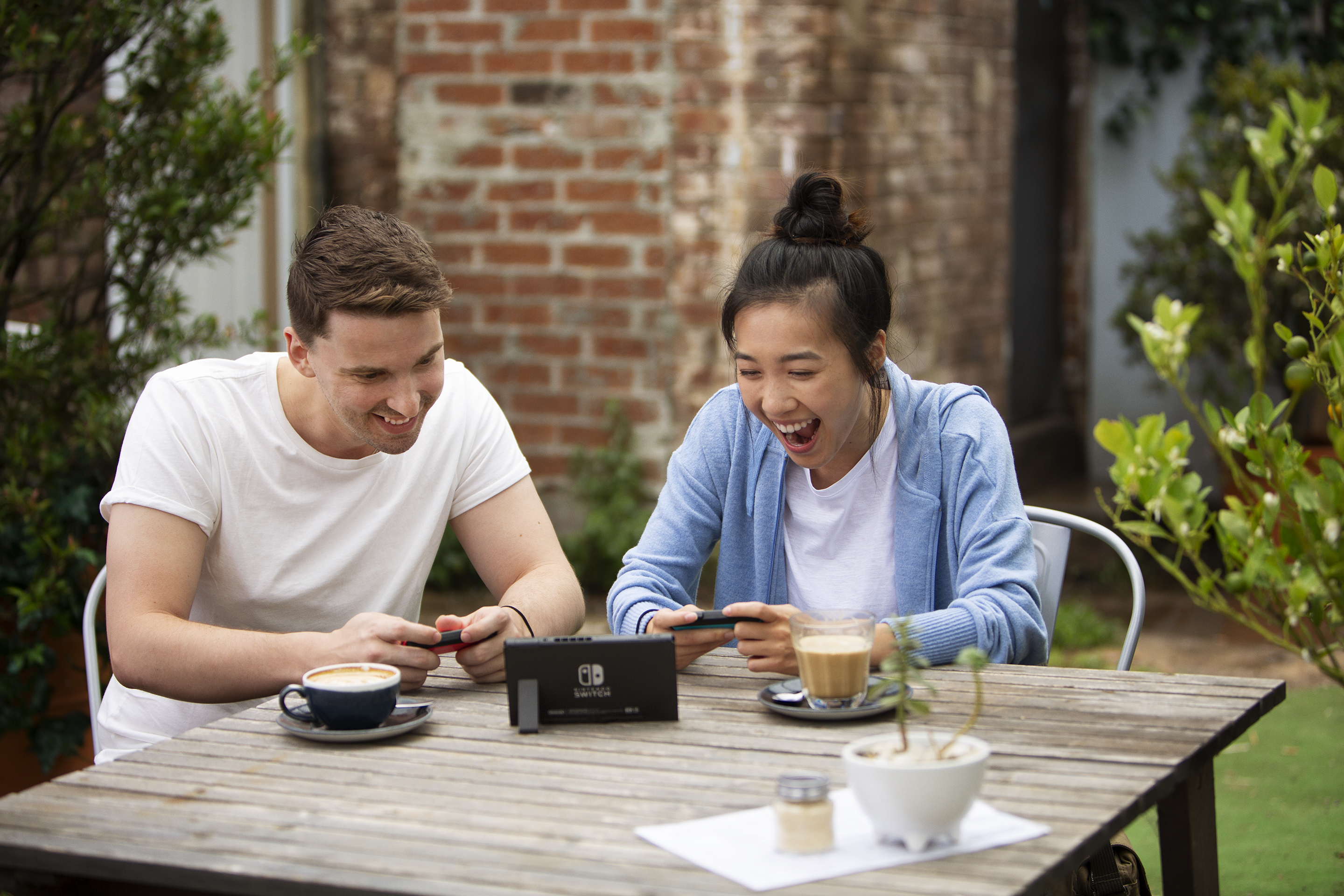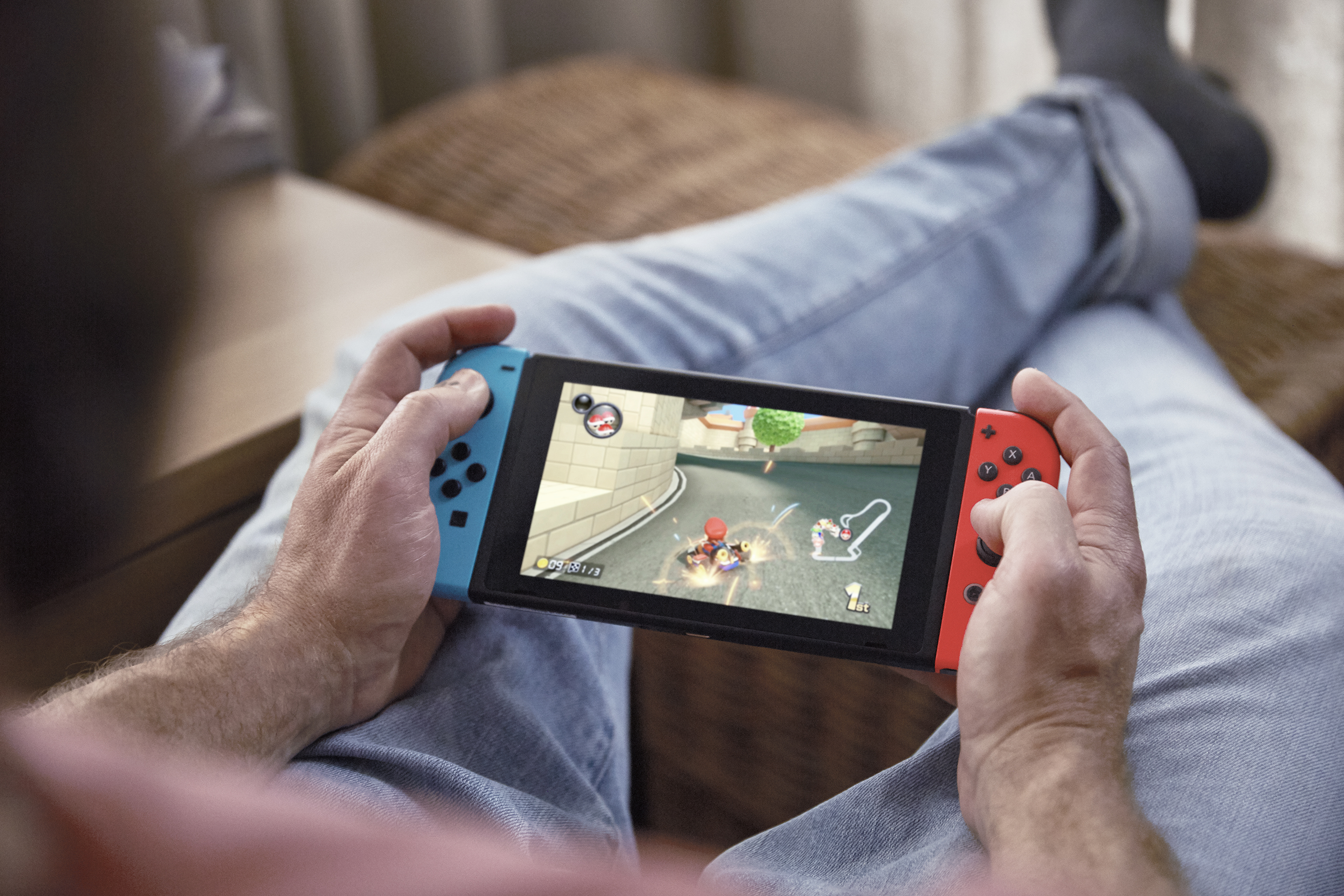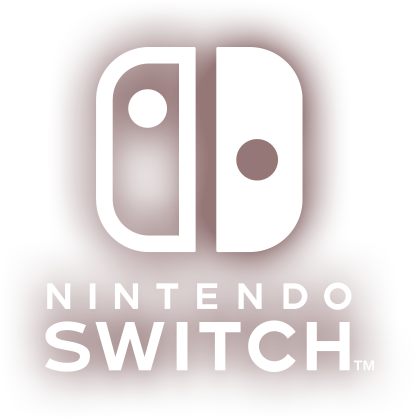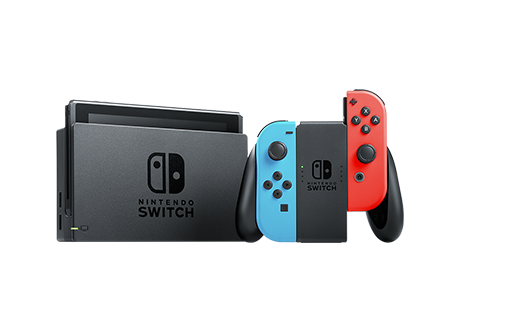 Enjoy the home console gaming experience, even without access to a TV.
Nintendo Switch can transform to suit your situation, so you can play the games you want, no matter how busy life may be.
It's a new era where you don't have to adjust your lifestyle to play games – instead, your console adjusts to fit around your lifestyle.
Enjoy games anytime, anywhere, with anyone!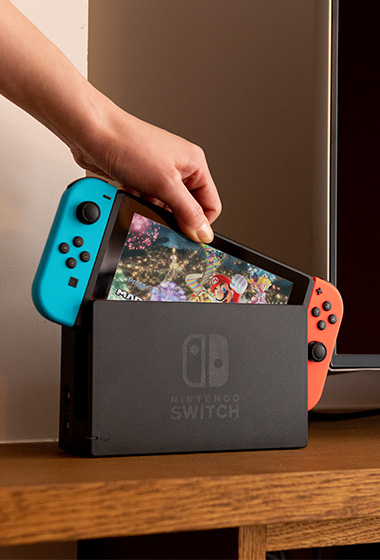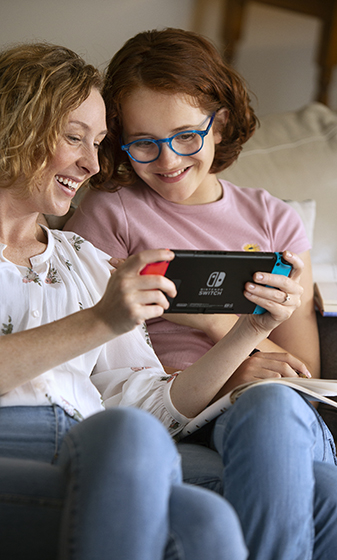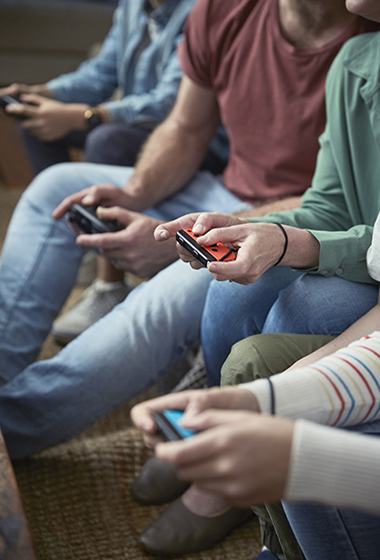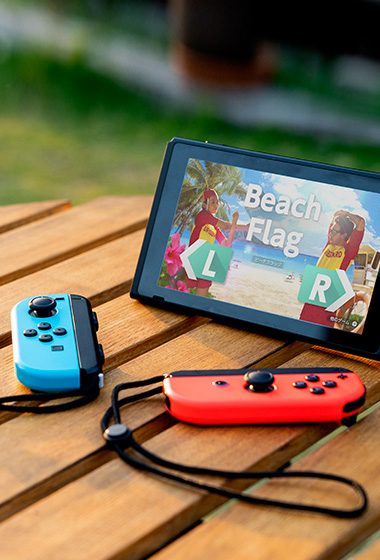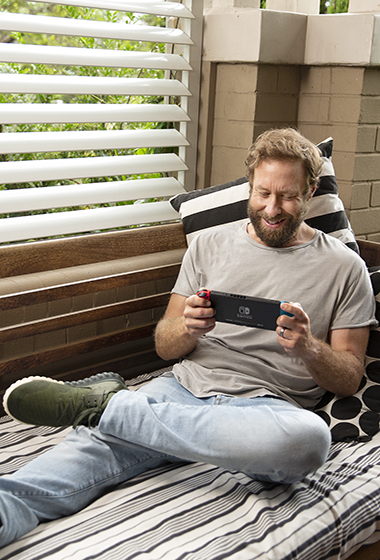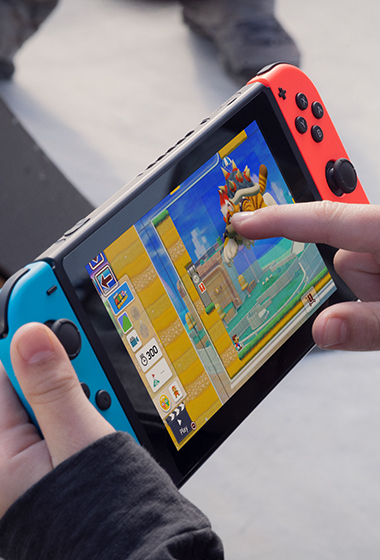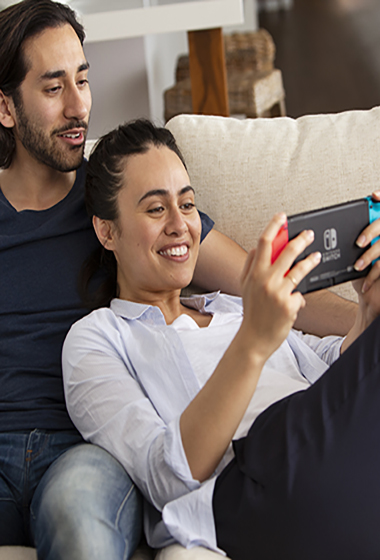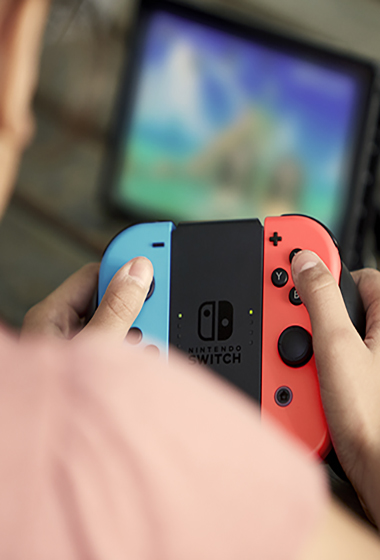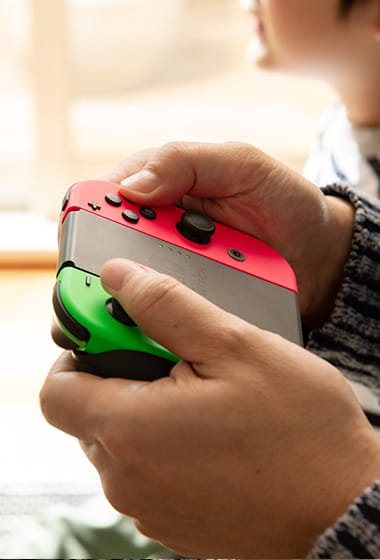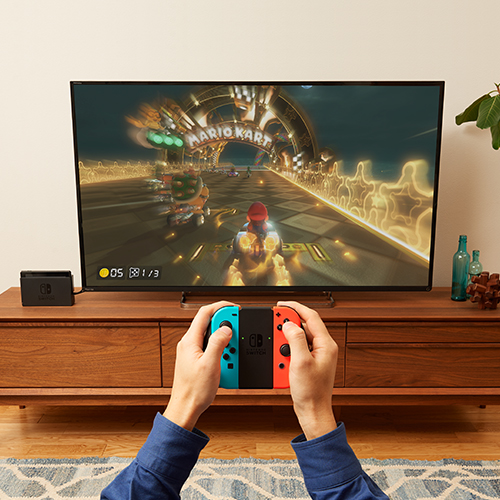 TV mode
Gather around a big screen and enjoy gaming with a crowd.
Dock your Nintendo Switch to enjoy HD gaming on your TV.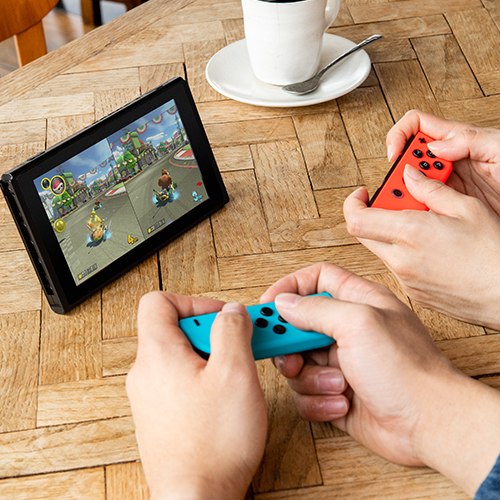 Tabletop mode
Share the screen, share the fun.
Flip the stand to share the screen, then share the fun with a multiplayer game.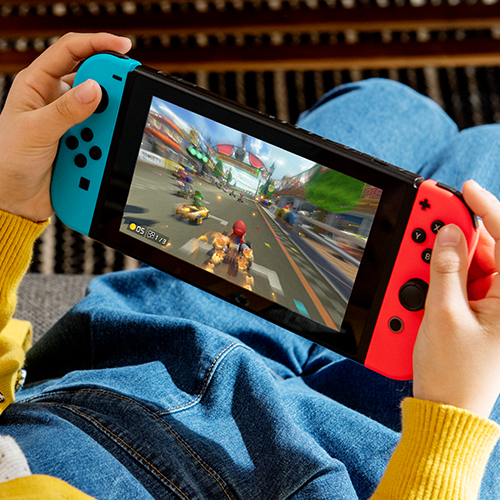 Handheld mode
Carry around a large, beautiful display anywhere you go.
Pick it up and play with the Joy-Con controllers attached.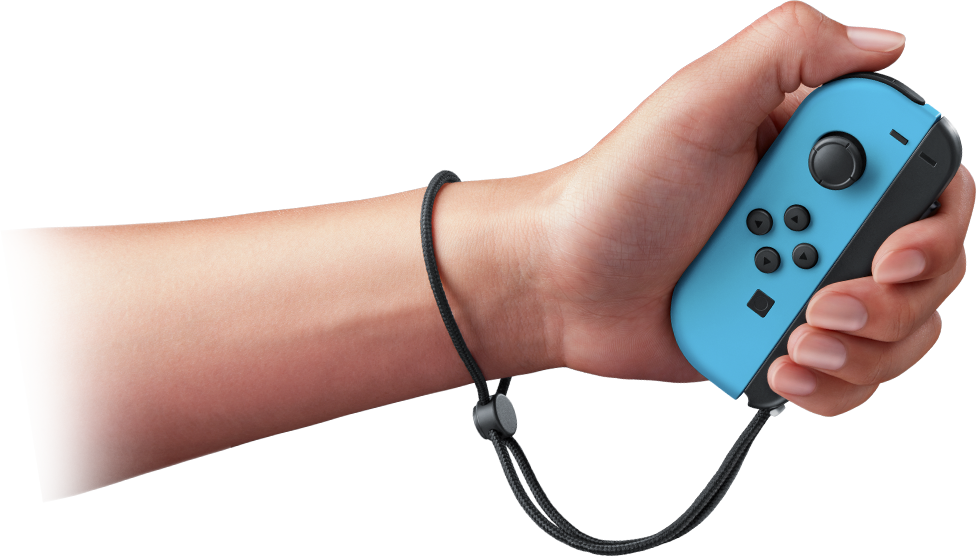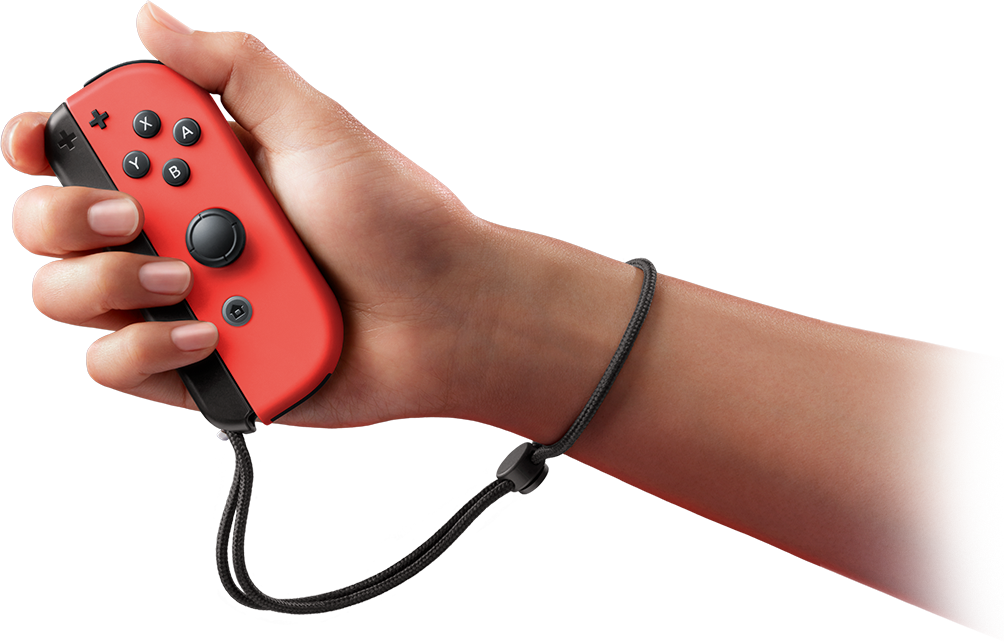 Nintendo Switch has a controller on each side of the console that function together: the Joy-Con.
If you attach the two Joy-Con to the Joy-Con grip, it will work like a traditional controller, and without the grip they work as two individual, fully-functioning controllers.
A sense of touch that goes beyond mere vibrations
Imagine the Joy-Con is a glass containing ice cubes. With HD rumble, when you move and tilt the Joy-Con you can feel the ice cubes clanking around.
There's one, there's another…HD rumble feels so realistic that you can even tell how many cubes there are, almost as if you're actually holding a glass in your hand.
Sense shape, movement and distance
The IR Motion Camera in Joy-Con (R) can detect the shape, movement and distance of objects captured by the camera.
For example, it can recognise the shape of players' hands, such as when you make a rock, paper or scissors. This feature can also open up new experiences like Nintendo Labo (sold separately).
Link up to eight consoles for multiplayer
Local co-op
Play on the big screen at home with friends.*
*Additional controllers (sold separately) may be required.
Local wireless
Players can sync together up to eight Nintendo Switch or Nintendo Switch Lite consoles to play competitive and co-operative multiplayer games.
Online multiplayer
With a Nintendo Switch Online membership, you can play with friends far away and players around the world, access a growing library of classic NES games with added online features, enjoy exclusive offers such as TETRIS® 99 and Nintendo Switch Game Vouchers, and more!
 
Nintendo Switch console
Size
102mm x 239mm x 13.9mm (with Joy-Con attached)
Please note: 28.4mm at the thickest, from the tips of the analogue sticks to the ZL/ZR Button protrusions.
Weight
Approx. 297g
(With Joy-Con controllers attached: 398g)
Screen
Capacitive touch screen / 6.2 inch LCD / 1280x720 resolution
CPU/GPU
NVIDIA customised Tegra processor
System memory
32 GB

You can increase your console's storage with compatible microSD cards (sold separately). For more information on compatible microSD cards, please visit our support section.

Please note: approximately 6.2 GB of internal memory is reserved for use by the system.
Communication features
Wireless LAN (IEEE 802.11 a/b/g/n/ac compliant) / Bluetooth 4.1
In TV mode, it's also possible to use a wired LAN connection via a commercially available wired LAN adapter.
Video output
Maximum resolution: 1920x1080, 60 fps
Please note: output via HDMI cable in TV mode. In tabletop mode and handheld mode, the maximum resolution is 1280x720, which matches the screen resolution.
Audio output
Supports linear PCM 5.1ch
Please note: output via HDMI cable in TV mode.
Speakers
Stereo
USB terminal
USB Type-C terminal
Used for charging or for connecting to the Nintendo Switch dock.
Audio jack
4 pole stereo 3.5mm mini plug (CTIA standard)
Please note: Nintendo cannot guarantee functionality with all products
Game card slot
Exclusively for Nintendo Switch game cards.
microSD card slot
Compatible with microSD, microSDHC and microSDXC memory cards. Please read our microSD Card FAQ for more information on compatible microSD cards

Please note: an update via an internet connection is required to use microSDXC memory cards.
Sensors
Accelerometer / gyroscope / brightness sensor
Operating environment
Temperature: 5 - 35°C / Humidity: 20 - 80%
Internal battery
Lithium ion battery / battery capacity 4310mAh
Please note: the internal battery cannot be removed. If the battery needs to be replaced, it can be replaced for a fee via Nintendo Customer Support.
Battery life
Nintendo Switch with improved battery life (Model number starts with "XKW")

Approx. 4.5-9 hours

The battery life will depend on the games you play. For instance, the battery will last approximately 5.5 hours for The Legend of Zelda: Breath of the Wild.

Nintendo Switch (Model number starts with "XAW")

Approx. 2.5-6.5 hours
The battery life will depend on the games you play. For instance, the battery will last approximately 3 hours for The Legend of Zelda: Breath of the Wild.

Charging time
3 hours approx.
Please note: this is the time taken to charge while the console is in sleep mode.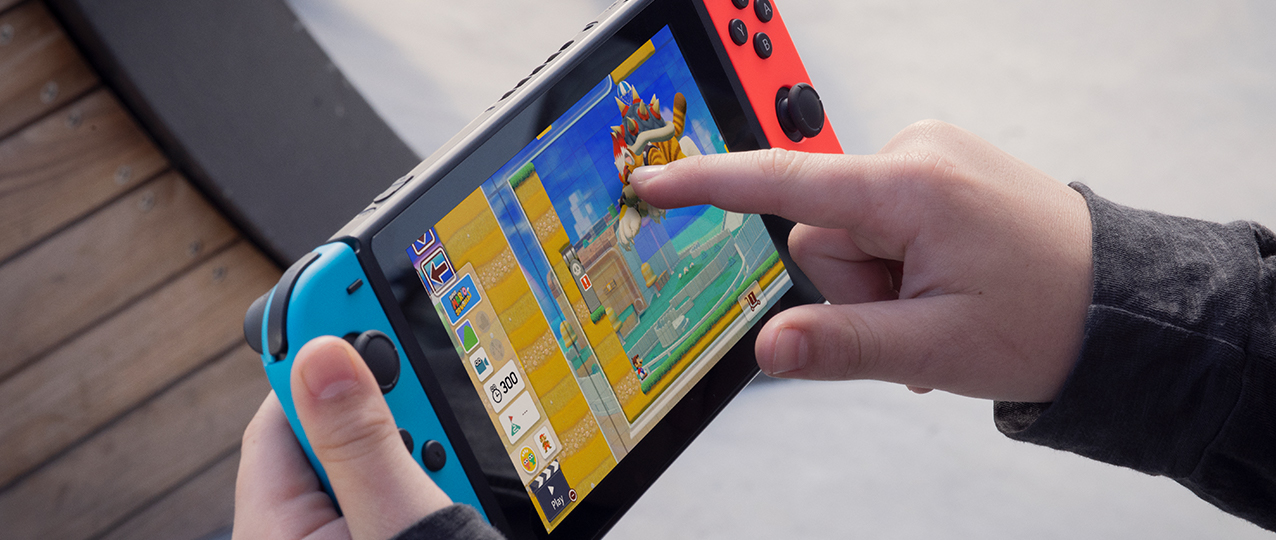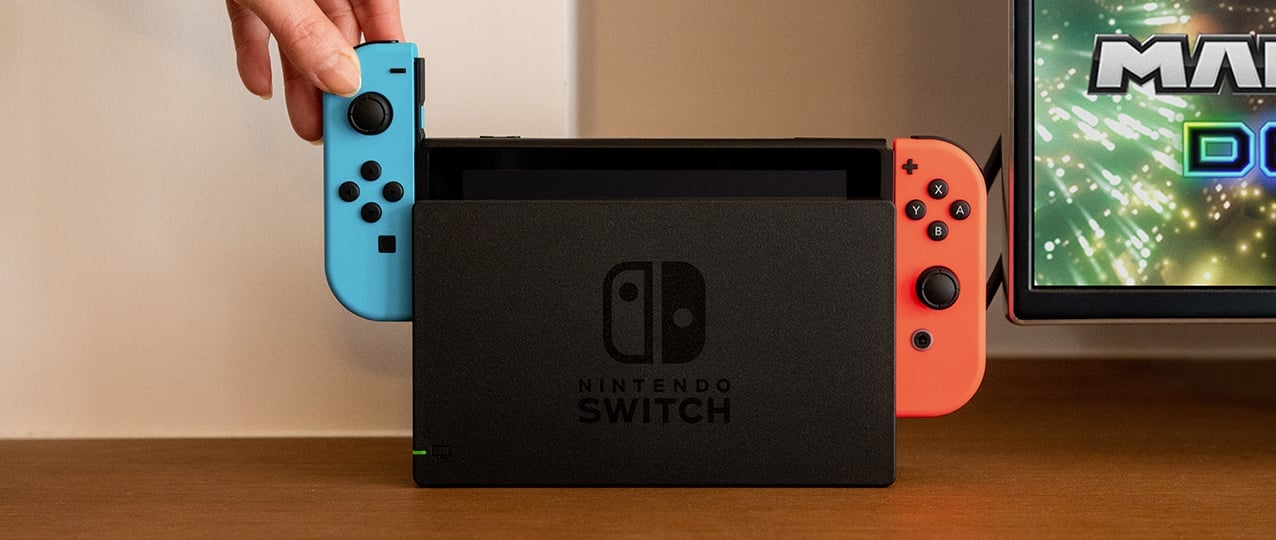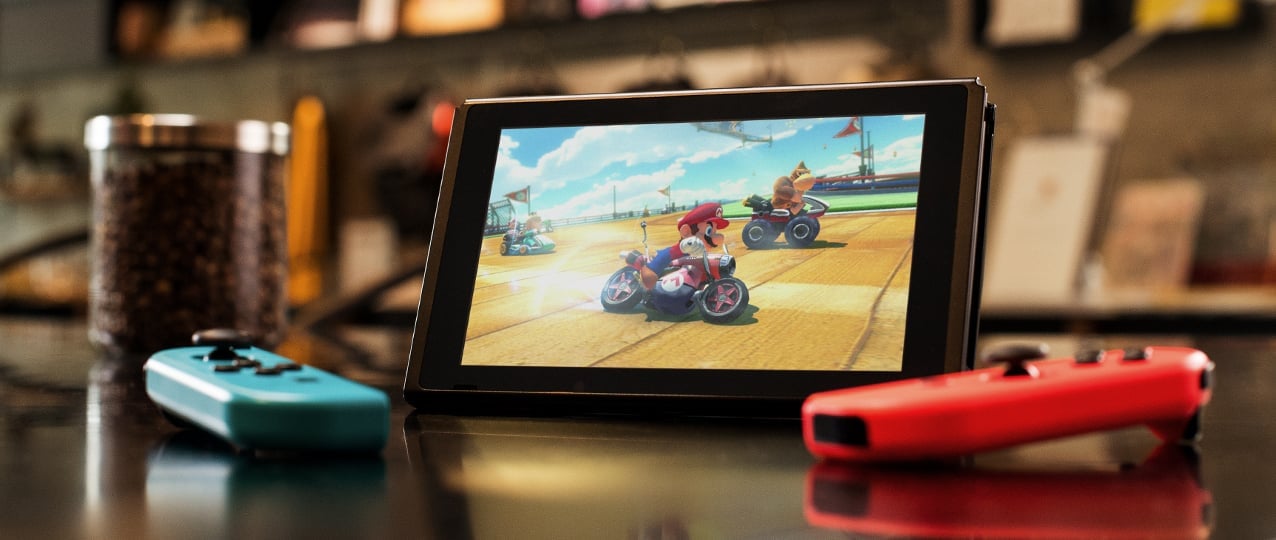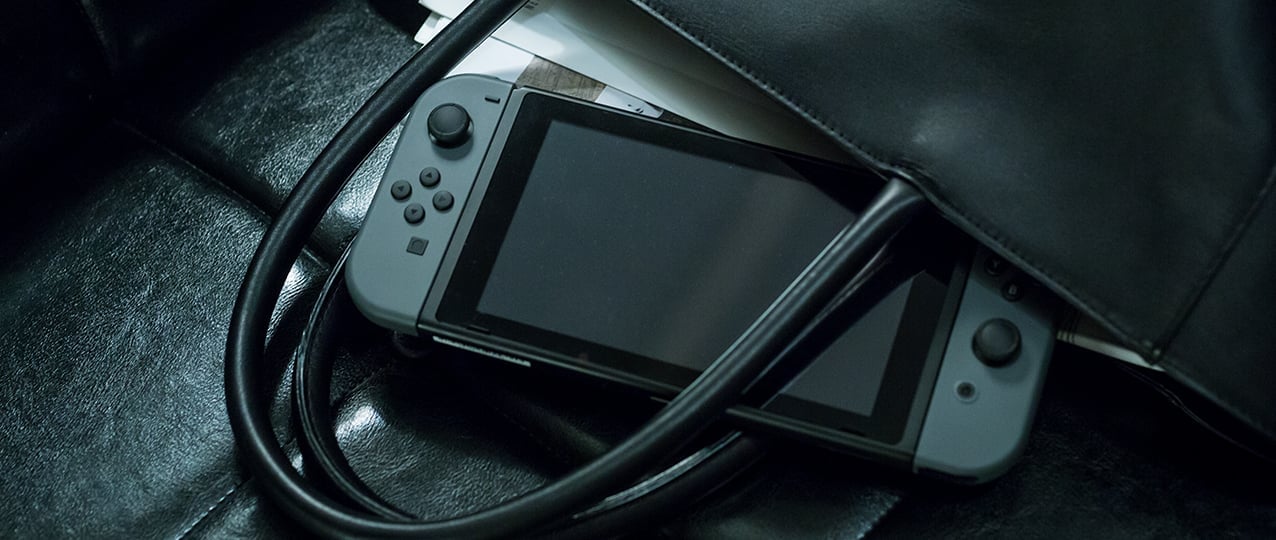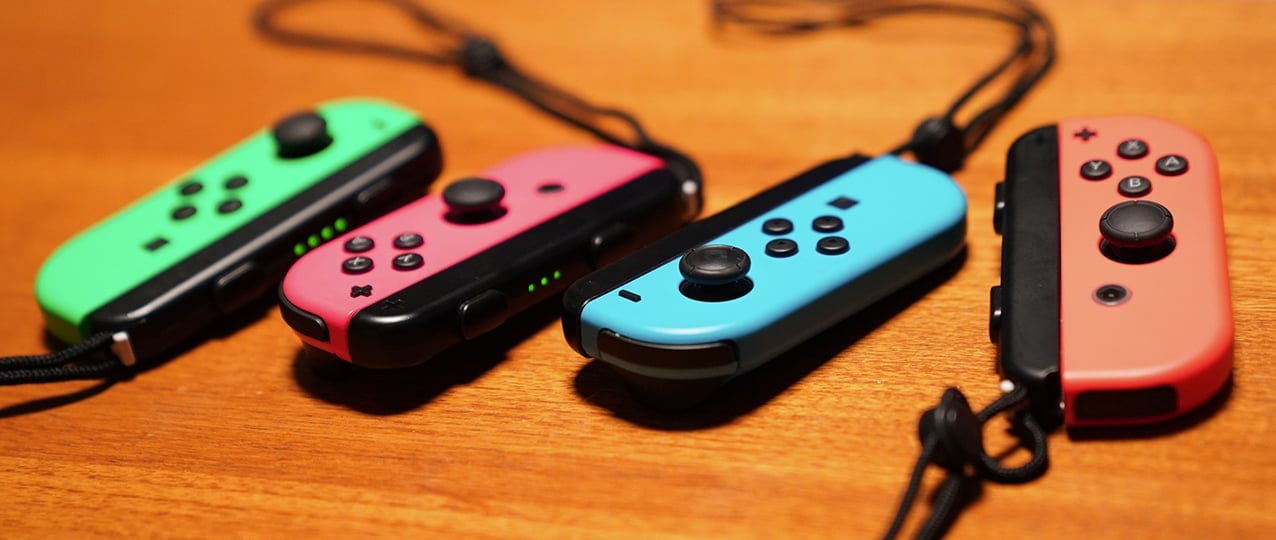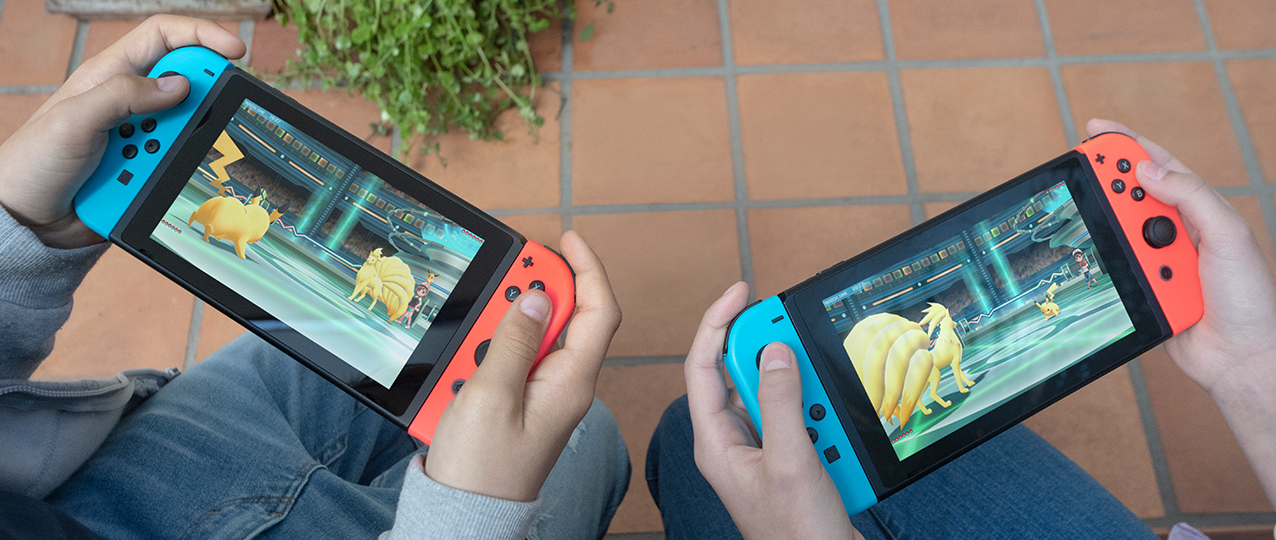 Nintendo Switch
SRP AU$469.95*
IR Motion Camera included