Getting Started Guide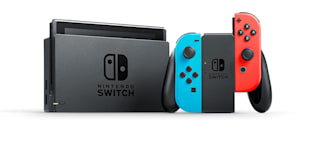 Your Nintendo Switch – OLED Model, Nintendo Switch or Nintendo Switch Lite System
Check out these basic tips on setting up your Nintendo Switch system to get the most out of your play experience.
Setting Up
How to set up your Nintendo Switch
Check out these handy Nintendo Switch – OLED Model, Nintendo Switch and Nintendo Switch Lite system diagrams. If you would like to learn more or need help setting up or operating your system, click the link below to view the full setup and operation guide.
How To
How to connect Nintendo Switch to the Internet
An internet connection is required to update your system and software, as well as connect to online services such as Nintendo Switch Online and Nintendo eShop. Watch the video guide below to see where you can find internet settings on your system, and how to connect to a wireless network.
Sign Up
How to make a Nintendo Account
What is a Nintendo Account?
A Nintendo Account is your main account for using a variety of services on Nintendo Switch. You will need this to purchase digital games on Nintendo eShop, earn reward points with My Nintendo and play online using Nintendo Switch Online.
Create your Nintendo Account here.
Once you've set up your account, follow the guide below to sign in on your Nintendo Switch system.
Nintendo Switch Online is a paid subscription service that allows Nintendo Switch users to connect online and play games with others all over the world. You can choose between two membership options: Nintendo Switch Online or Nintendo Switch Online + Expansion Pack.
With your membership you can also enjoy a great library of Nintendo Entertainment System (NES) and Super Nintendo Entertainment System (SNES) games, with additional benefits like Save Data Cloud, Smartphone app and Exclusive offers. And if you choose the Nintendo Switch Online + Expansion Pack, you'll have access to all the benefits of a Nintendo Switch Online membership, plus a growing library of classic Nintendo 64 and SEGA Mega Drive games, and access to paid downloadable content for select Nintendo Switch games.
Visit Nintendo eShop on your Nintendo Switch console and select the Nintendo Switch Online option on the left navigation to see if you're eligible and activate your free trial.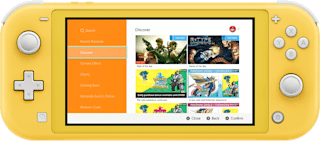 Don't want to leave the comfort of your own home to get a new game? Discover a massive world of games and free demos available to download straight away on Nintendo eShop! There are thousands of games available, with many only available exclusively to this digital store. You can access the Nintendo eShop directly from your Nintendo Switch.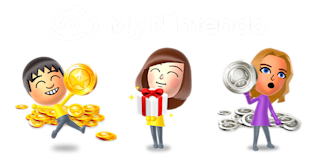 Your Nintendo Account grants you access to My Nintendo; a fun, easy and rewarding Points Program!
Earn Gold Points when you purchase games, which you can then use for future purchases and get Nintendo Switch software for less...or even for free!
Nintendo Switch Parental Controls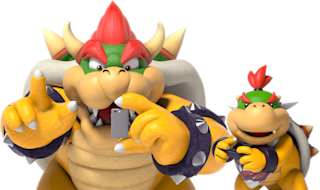 As a parent, it's not always easy to keep an eye on your children's time spent with entertainment devices. The Nintendo Switch Parental Controls smart device app is a free smart device app which you can link with Nintendo Switch to easily monitor what and how your children are playing.
Once you've set up a Nintendo Account, click below to download the Nintendo Switch Parental Controls app on your smartphone.
Games
Free demos and games to get you started
There is a huge range of free to play games and free demo versions of Nintendo Switch games available on the Nintendo eShop, check these out to get started:
There's a huge range of games to discover both in store and on the Nintendo eShop, but here a few popular recommendations for the whole family to get you started:
Digital Storage
Increase your storage with micro SD cards
Purchasing software digitally is convenient in many ways, but to make the most of your Nintendo Switch, you may want to consider adding additional storage. That way you can fit even more games on it! The Nintendo Switch and Nintendo Switch Lite systems have an internal hard drive of 32GB, whereas the Nintendo Switch – OLED Model has 64GB; so if after a while you find your storage reaching its limits, you can use a micro SD card to increase your storage easily.
CONTROLLERS AND ACCESSORIES
Joy-Con and Nintendo Switch Pro Controller
The Nintendo Switch system comes with two Joy-Con controllers. Some multiplayer games require additional controllers for more players which can be purchased separately. You can also purchase a Nintendo Switch Pro Controller, which may suit your gaming preferences better as a more traditional video game controller.
Apple and the Apple logo are trademarks of Apple Inc., registered in the U.S. and other countries. App Store is a service mark of Apple Inc., registered in the U.S. and other countries. Google Play and the Google Play logo are trademarks of Google Inc.