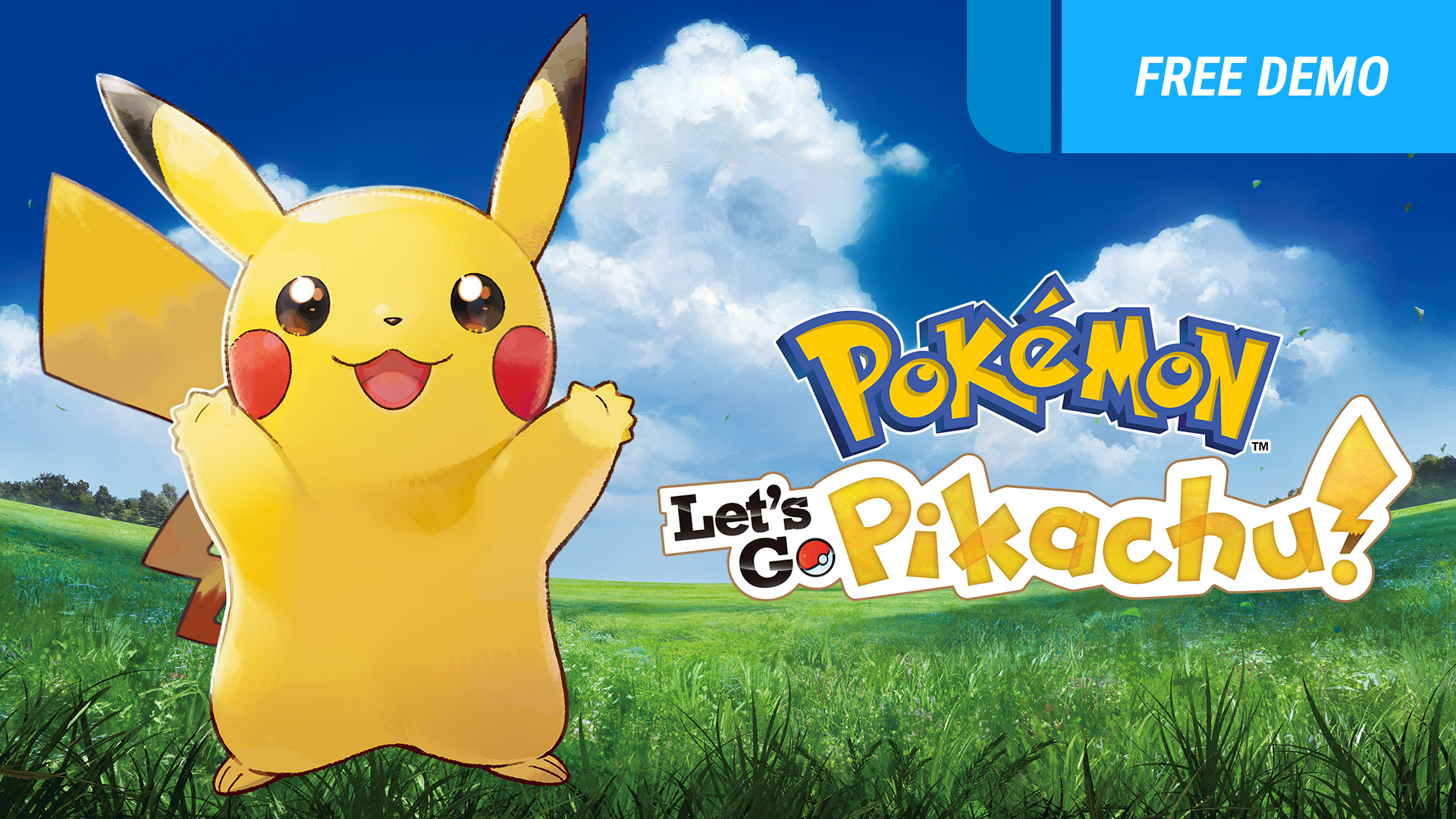 Pokémon: Let's Go, Pikachu!
An exciting new Pokémon RPG for Nintendo Switch!
Get demo
Welcome to the world of Pokémon!
Journey through the Kanto region on an exciting adventure in Pokémon: Let's Go, Pikachu! and Pokémon: Let's Go, Eevee! for Nintendo Switch. Start your journey as a rookie Pokémon Trainer, and catch, battle and form friendships with many Pokémon along the way!
You and your partner Pokémon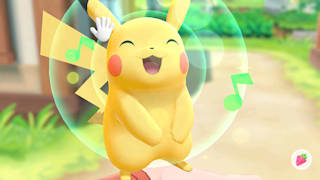 In Pokémon: Let's Go, Pikachu!, your partner Pikachu will always be by your side, growing and learning as you go. Pikachu can learn Secret Techniques to use outside of battle, like Chop Down, Sky Dash and Sea Skim to reach new places, as well as partner powers to use in battle!

The more time you spend with your partner, the more it'll grow to love you! You can pet, feed, tickle and dress up your partner Pokémon with different outfits, accessories and hairstyles. Good things might happen as the two of you become closer.
Catch
You're bound to meet many Pokémon wandering throughout the Kanto region! Simply approach a Pokémon and you'll have a chance to catch it – just use the motion controls of the Joy-Con or Poké Ball Plus accessory (sold separately) to throw a Poké Ball!

Battle
Be prepared! When a Trainer sees you, it's time for battle! Battles are a great way to train your Pokémon and grow closer to them.
Meanwhile, Pokémon Gyms are places for Pokémon Trainers to test their skill in battle. Defeating a Gym Leader will earn a Pokémon Trainer a Gym Badge.
Trade
You can also trade Pokémon with friends nearby or around the world to complete your Pokédex. Oddish, Sandshrew and Growlithe only appear in the wild in Pokémon: Let's Go, Pikachu!, while Bellsprout, Vulpix and Meowth only appear in the wild in Pokémon: Let's Go, Eevee!

The Kanto region is a varied locale, filled with small towns, cities, mountains, rivers, forests, and seas. There is a wide variety of places to explore and plenty of Pokémon to be found.
Some Pokémon will even let you ride them, allowing you to move faster around the world. It's a great way to experience the adventure with your Pokémon!
Play with friends
Pass a Joy-Con to a friend for multiplayer fun! With the Support Play feature, two players can explore, battle and catch Pokémon together – and both players can even have a Pokémon travel alongside them as well!
Play Pokémon anytime, anywhere, with anyone!
With Nintendo Switch, you can play Pokémon: Let's Go, Pikachu! and Pokémon: Let's Go, Eevee! however you like!
Play anywhere in handheld mode
During your travels through the Kanto region, you're bound to cross paths with members of the sinister organisation Team Rocket. This dastardly group plots to steal and use Pokémon for their own nefarious ends!

Alolan Forms
Some Pokémon have travelled to Kanto from the Alola region. Due to Alola's unique climate, they look a little different from their Kanto-region counterparts!
Game specifications
No. of players
Up to 2 players
Supported languages
Japanese, English, French, German, Italian, Spanish, Korean, Chinese (Simplified), Chinese (Traditional)
Supported play modes
TV mode
Tabletop mode
Handheld mode
Software compatibility and play experience may differ on Nintendo Switch Lite. Additional accessories may be required (sold separately). See support for details.
Notices
Internet connection required during online play. To use online services, you must create a Nintendo Account and accept the related agreement. The Nintendo Account Privacy Policy applies. Some online services may not be available in all countries. Online play requires paid online membership. Find out more about the paid membership subscription.
Local multiplayer requires one console and one copy of the software per player.
Multiplayer requires one compatible controller per player. Additional controllers (sold separately) may be required.
©2018 Pokémon. ©1995–2018 Nintendo / Creatures Inc. / GAME FREAK inc.