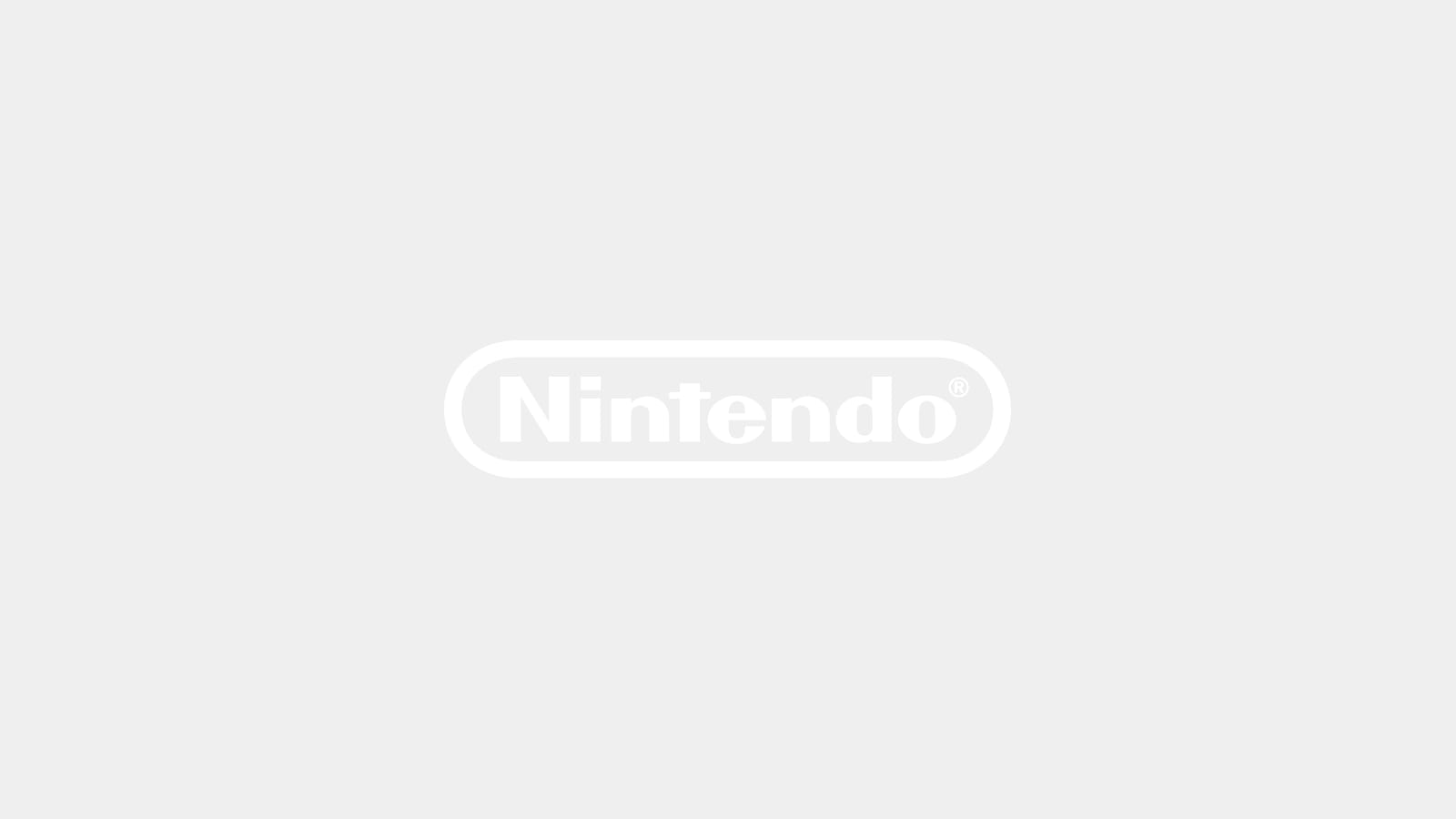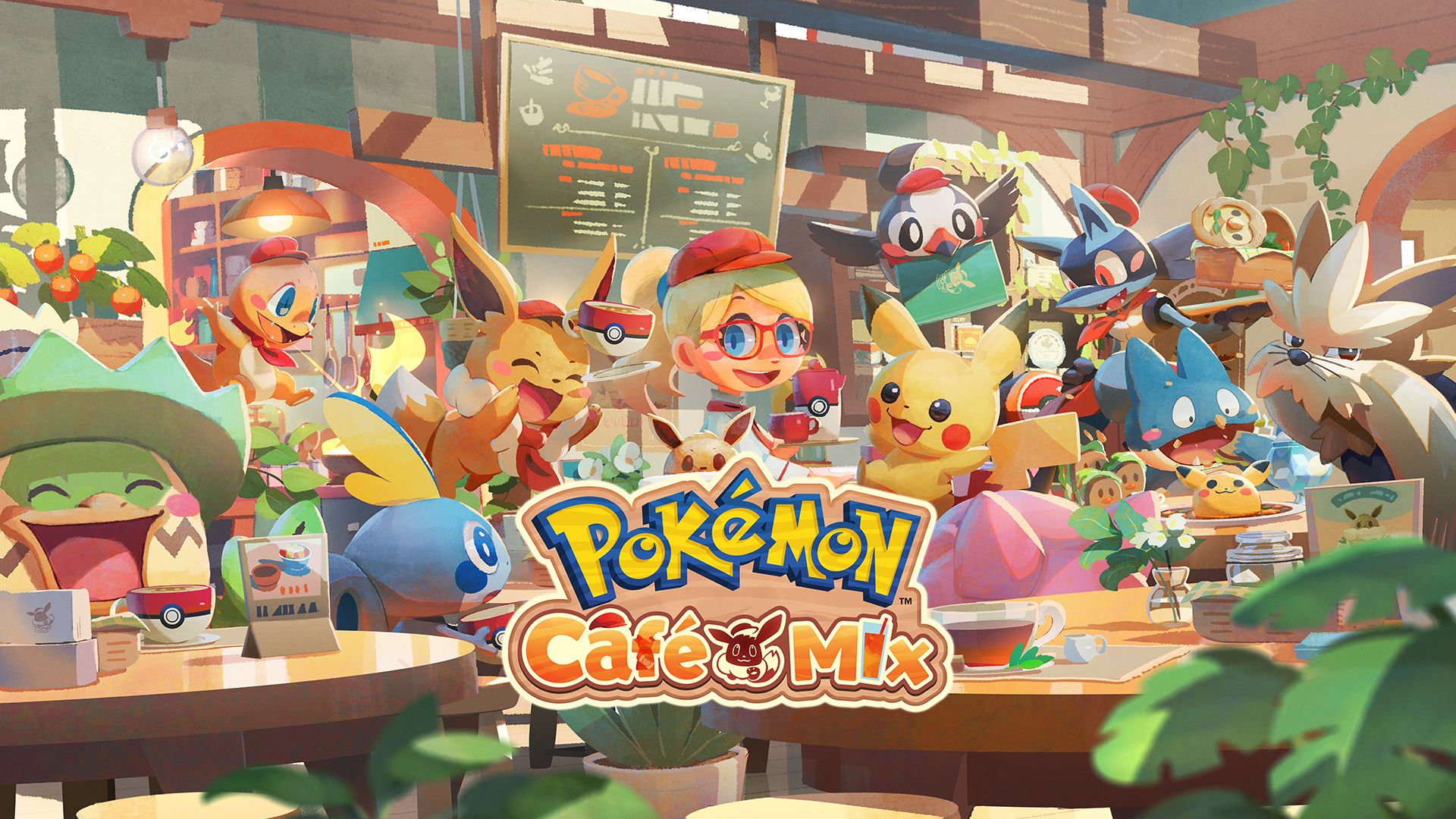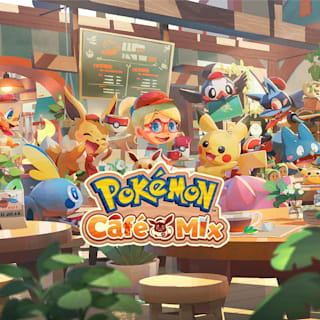 Pokémon Café Mix
Create a chic café bustling with Pokémon
with unique "swirl-and-link" puzzles!
Welcome to the café!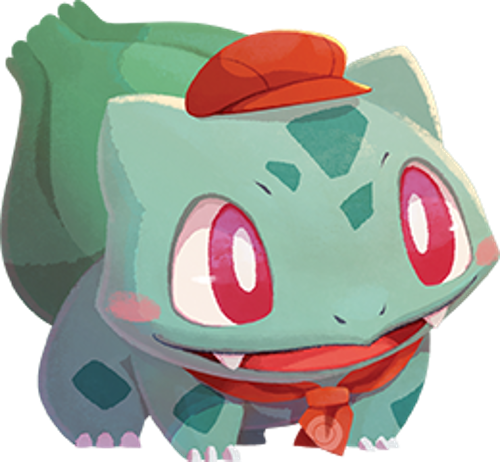 The lunch rush is on! Run and build up your very own eatery with Pokémon Café Mix, a free-to-start puzzle game, available to download on Nintendo Switch.
In this handheld experience, take the orders from your Pokémon customers and craft tasty treats, by completing satisfying icon matching puzzles!
Order up
As Pokémon arrive to sample the delights of your Pokémon Café, it's up to you and your highly trained staff to get their orders just right! Each order takes the form of a puzzle – where you must clear special "gimmicks" on-screen to prepare a dish.
Using the touch screen, chain icons together and drag them round to dissolve sugar cubes, chop up tomatoes and whip cream for your next culinary masterpiece. Shifting icons around and moving these gimmicks into specific spots feels like you're stirring a pot – so get into the cooking spirit when solving each puzzle!
You only have a set number of moves to finish each puzzle, so be sure to use your Pokémon's special Skill or consumable Items to help complete your current order. If you fail a puzzle, you'll lose one of your five Hearts – lose all five Hearts and you can't take on any other orders.
Now hiring
When you start up your fledgling café, Eevee will be the only Pokémon on staff to help you take orders and prepare delicious food. Complete orders and you'll earn Stars – which fill up the Friendship gauge of your visiting patrons.
Get a customer's Friendship gauge high enough and they'll offer to come and work for you! Each Pokémon comes with their own Skill, as well as specific foods they excel at preparing, so it pays to have a diverse kitchen staff as your café grows in size.
Pay day!
By completing orders successfully, you'll also earn Golden Acorns – a currency that allows you to buy new café upgrades, consumable Items and additional moves, should you run out while trying to solve a puzzle.
Your continued success running a café will also unlock new ingredients, opening up new food and drink options for serving to your hungry visitors. More food options means more customers, means more potential Pokémon to join your culinary collective!

Diners' club
Connect up with other café owners, see how they're performing and check out their favourite Pokémon by adding them to your Friends List.
As you grow your business, receive updates on your progress, along with information about upcoming events via your café's Inbox. Certain valued customers may even send you gifts! You'll also receive six new Pokémon for free each month, so check back regularly to see which new faces will be joining you in the kitchen.
If you are ever struggling to keep up with orders, or want to upgrade your café quickly, you can purchase additional Hearts, Golden Acorns and consumable items via Nintendo eShop.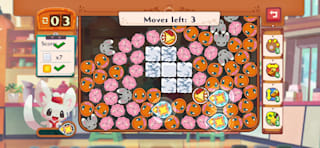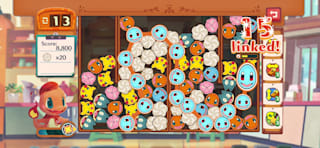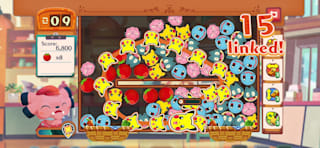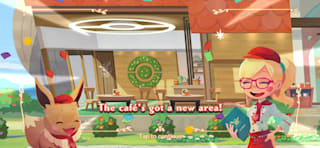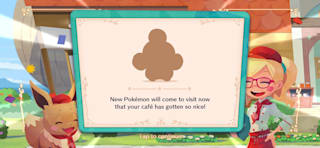 Game specifications
Supported languages
Japanese, French, German, Italian, Spanish, Korean, Chinese (Traditional), English
Supported play modes
TV mode
Tabletop mode
Handheld mode
Software compatibility and play experience may differ on Nintendo Switch Lite. Additional accessories may be required (sold separately). See support for details.
Notices
Paid items used in Pokémon Café Mix can be purchased from within the game.

Children should read this section together with their parent or guardian.

This game is free to play, but the in-game golden acorns and puzzle powers can also be purchased at the in-game shop via Nintendo eShop.

● About golden acorns
・ Using golden acorns allows you to gain various effects that will help you make progress in the game.
・ In addition to being able to obtain them in-game for free, you can also purchase them.
・ Purchases require Nintendo eShop funds.
Note: The pricing of golden acorns is subject to change without notice.

● About puzzle powers
・ Using puzzle powers allows you to gain various effects that will help you solve puzzles.
・ In addition to being able to obtain them in-game for free, you can also buy them bundled with golden acorns in item packs and certain other packs.
・ Purchases require Nintendo eShop funds.
© 2020 Pokémon. © 1995-2020 Nintendo/Creatures Inc./GAME FREAK inc.
Developed by Genius Sonority Inc.

Trademarks are property of their respective owners. Pocket Monsters and Pokémon are trademarks of Nintendo, Creatures Inc. and GAME FREAK.