Available 10/06/2022
Mario Strikers: Battle League Football
Anything goes on this pitch!
A free First Kick demo event of Mario Strikers: Battle League Football will take place on the weekend of June 4th - June 6th, allowing players to get some time on the pitch before the game launches on June 10th.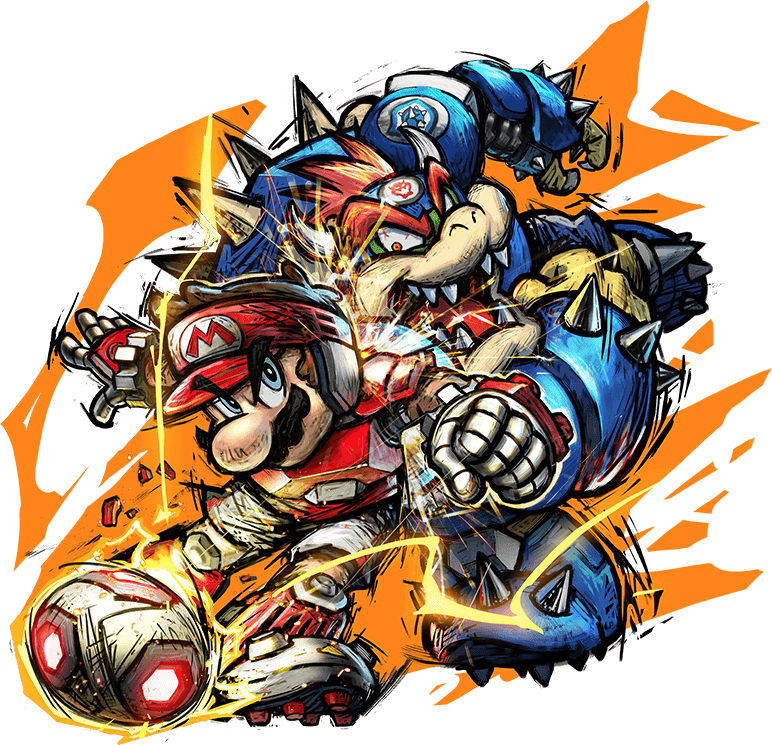 Anything goes
on this pitch!
Aim for victory with teamwork, tackles, table-turning items, and score-boosting Hyper Strikes in Mario Strikers: Battle League Football on Nintendo Switch. Do whatever it takes to win in frantic local multiplayer and team up with other players online to become the world's top club!
Introducing
Strike!
Mario and friends face off against each other in Strike, a five vs five, football-like sport without any of those pesky rules getting in the way!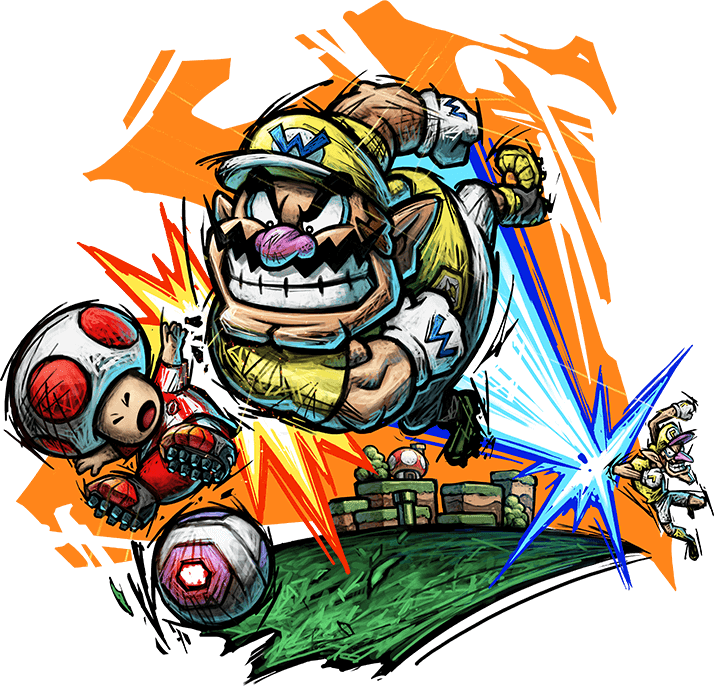 The team who scores the most goals wins, but with crunching Team Tackles flying in and all sorts of items adding to the chaos (not to mention the electric fences containing the carnage), scoring is easier said than done!
Hit the back of the net with a powerful Hyper Strike though, and TWO goals are added to the tally…
Assemble a team of Mushroom Kingdom all-stars, made up of four Strikers and a goalkeeper trying to keep the ball out of your net. Each character has their own stats such as Speed, Passing and Strength, as well as the ability to unleash a game-changing Hyper Strike. Here's how the squad lines up…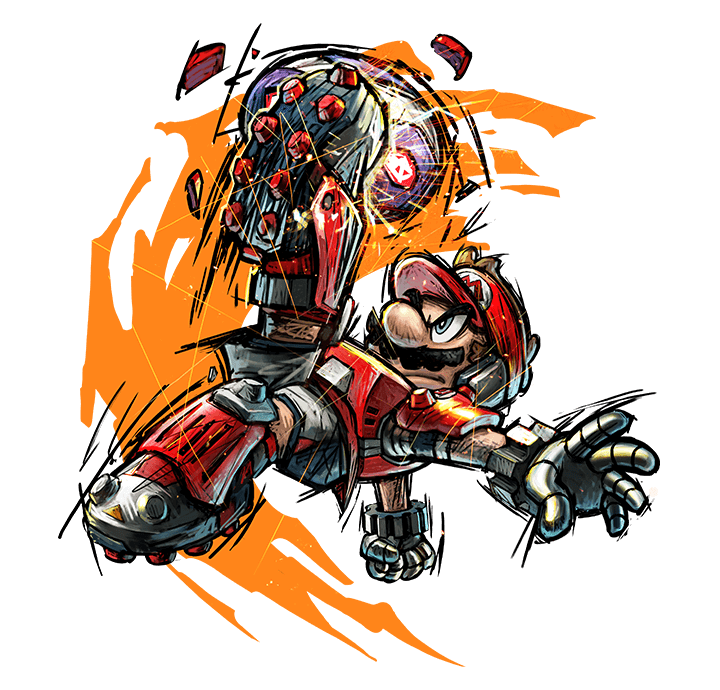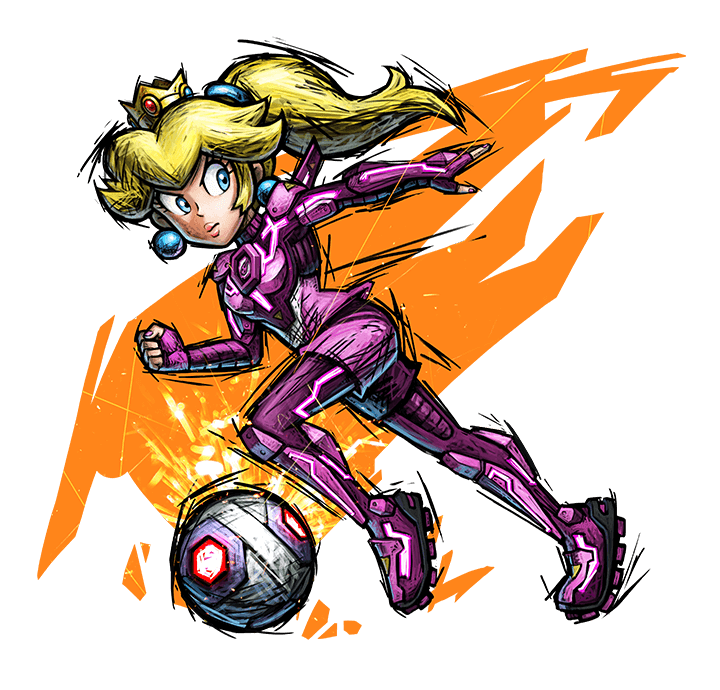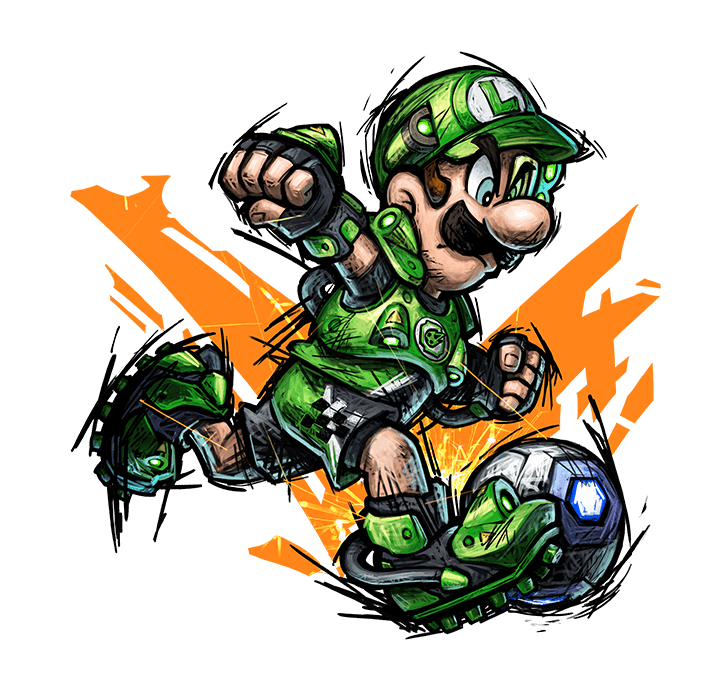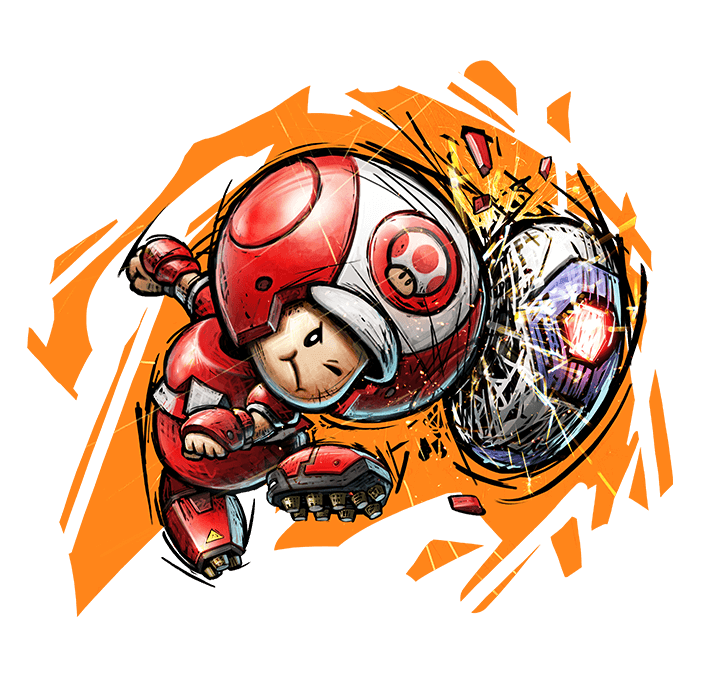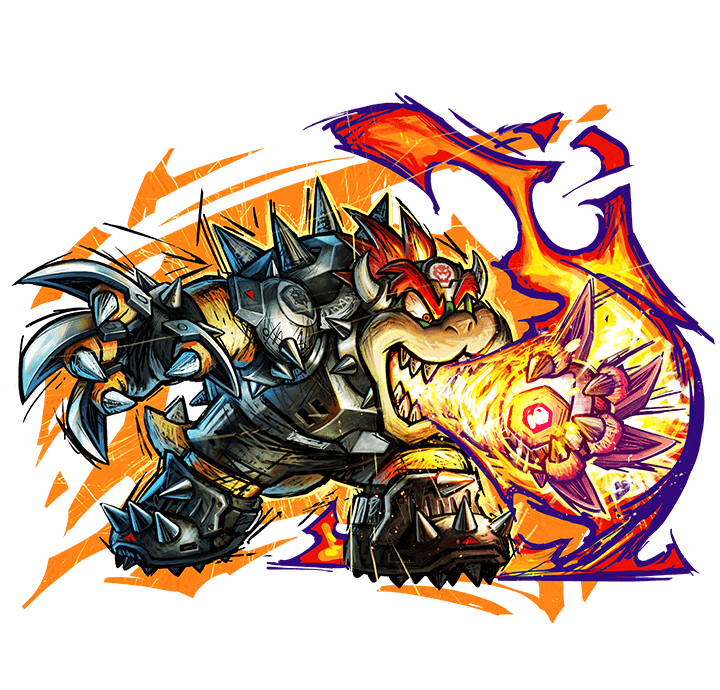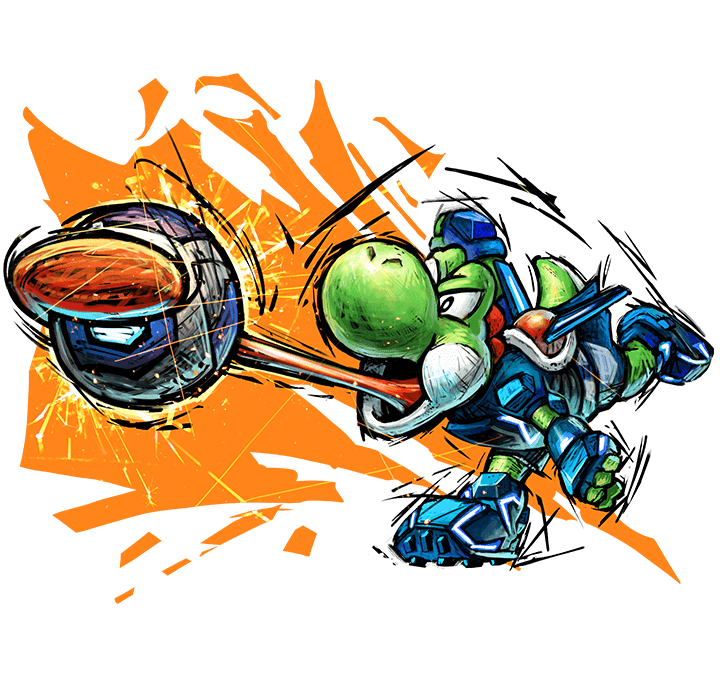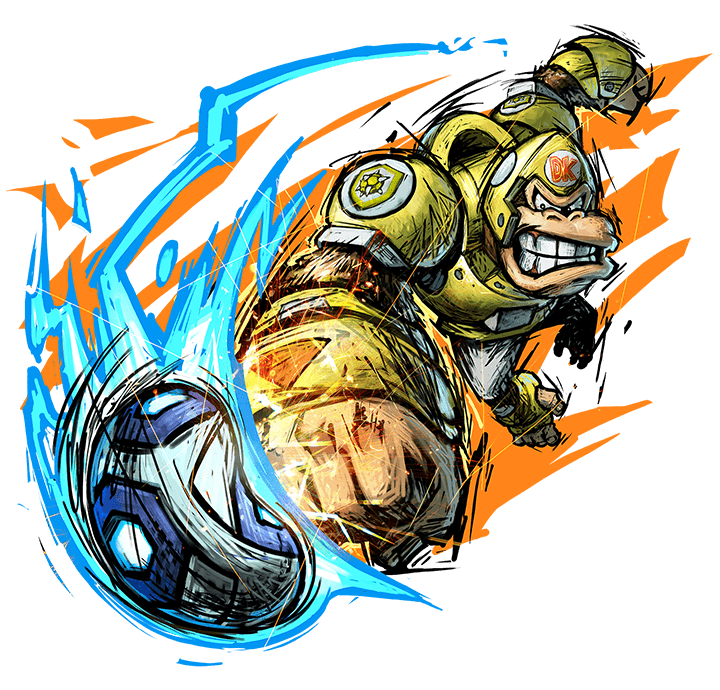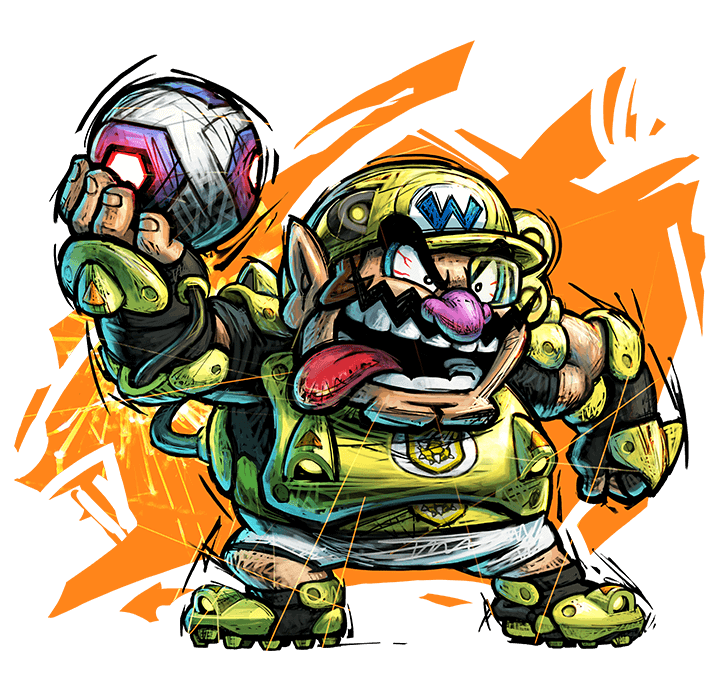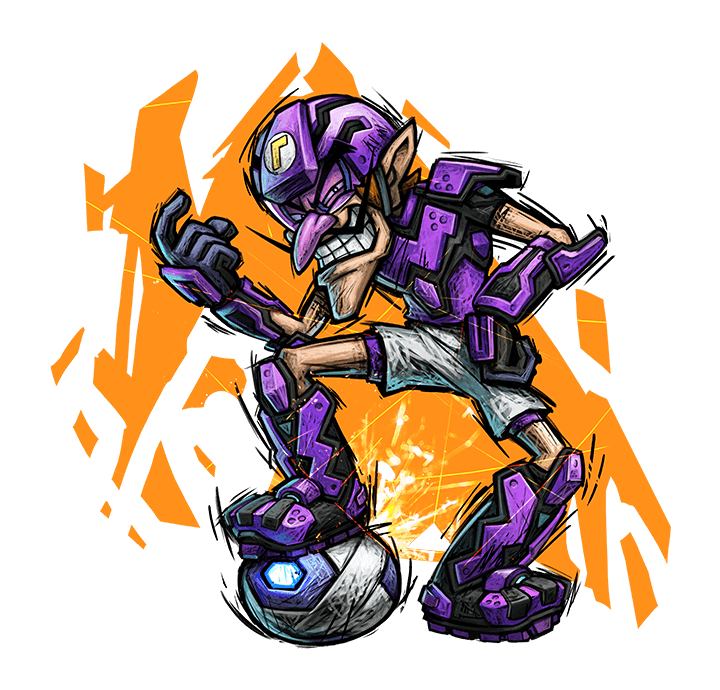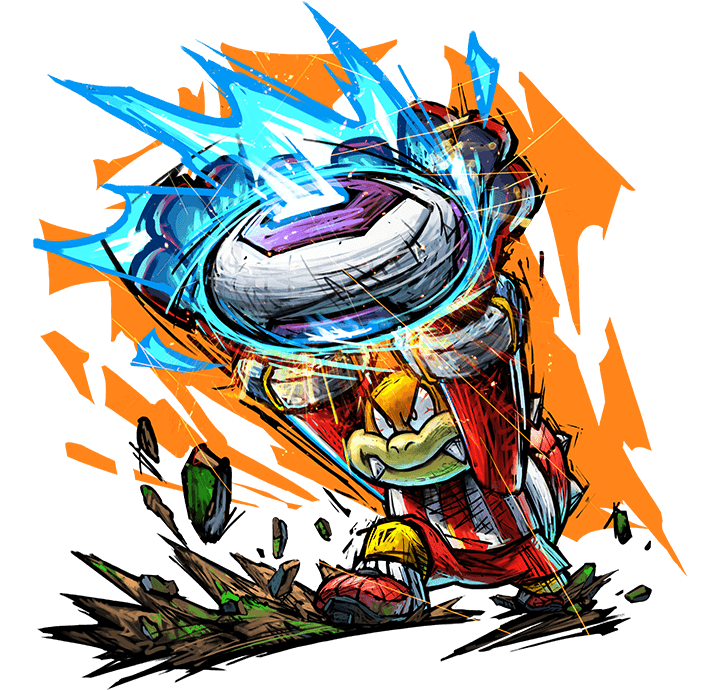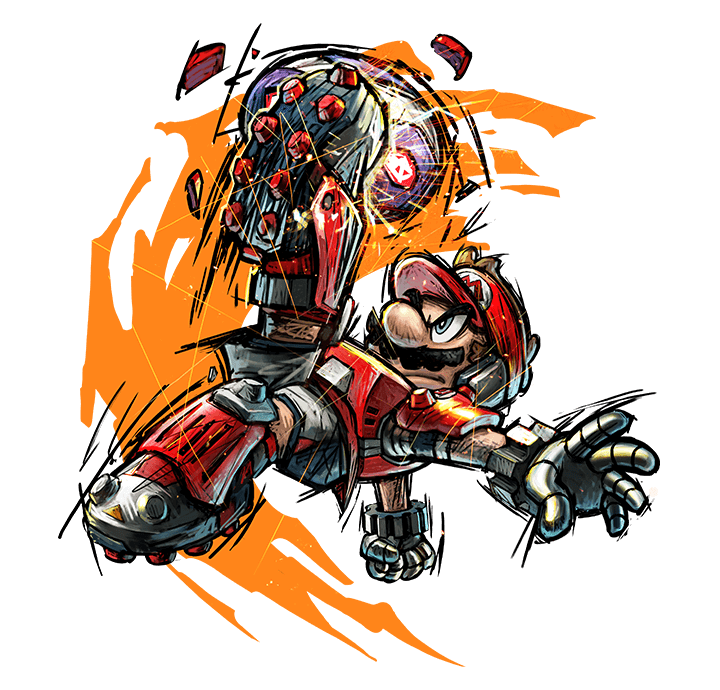 Name:
Mario
Hyper Strike:
Fire Cyclone
Always reliable, Mario is a great all-round player with impressive technique.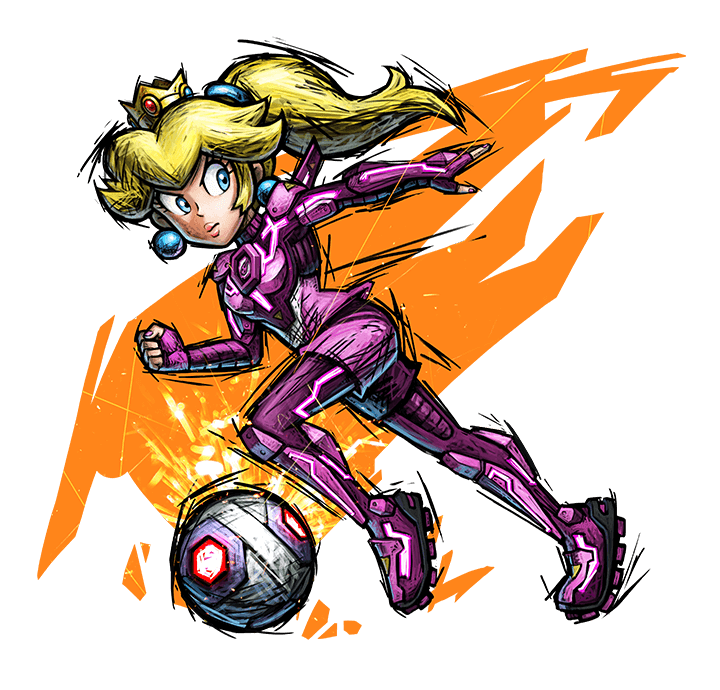 Name:
Peach
Hyper Strike:
Dance of Hearts
Her high speed and technique make Peach adept at avoiding defenders.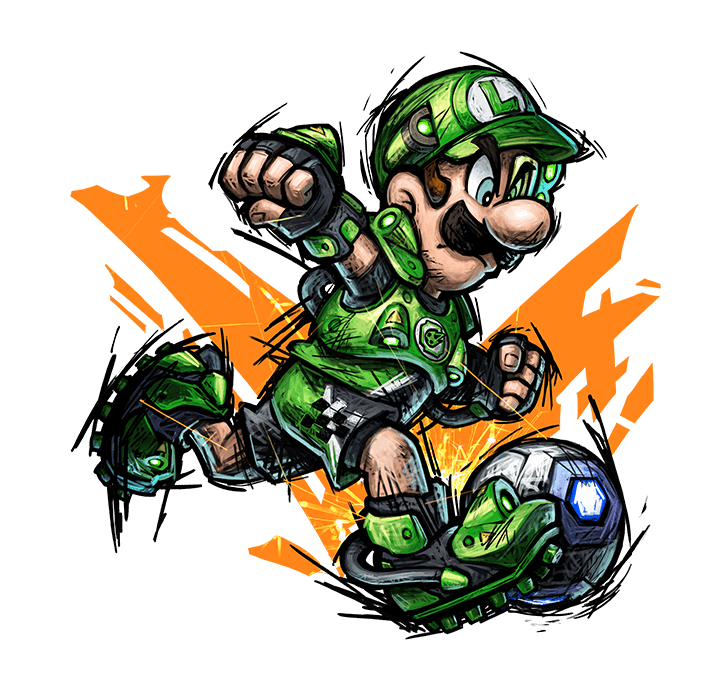 Name:
Luigi
Hyper Strike:
Spin Tornado
A technical player with excellent passing, Luigi excels as a playmaker.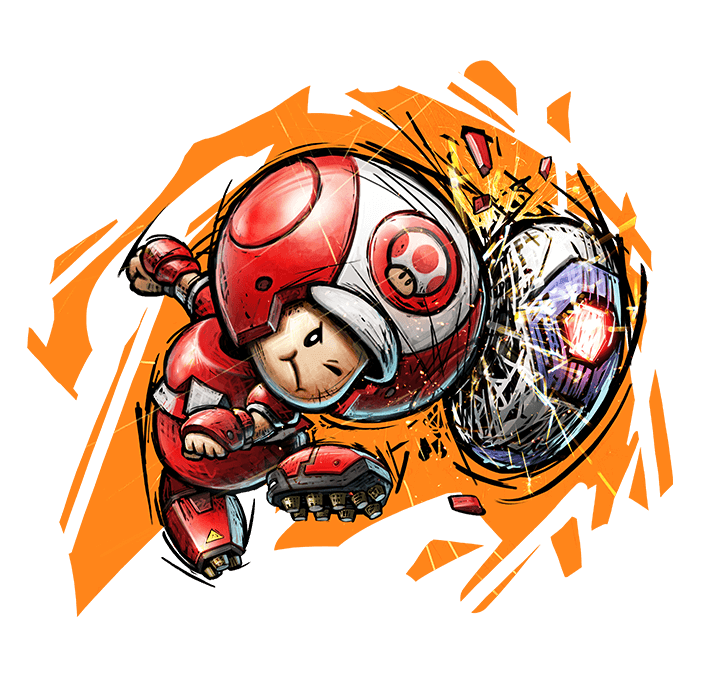 Name:
Toad
Hyper Strike:
Drill Smash
Toad's speed and passing ability mean he can turn defence into attack in the blink of an eye.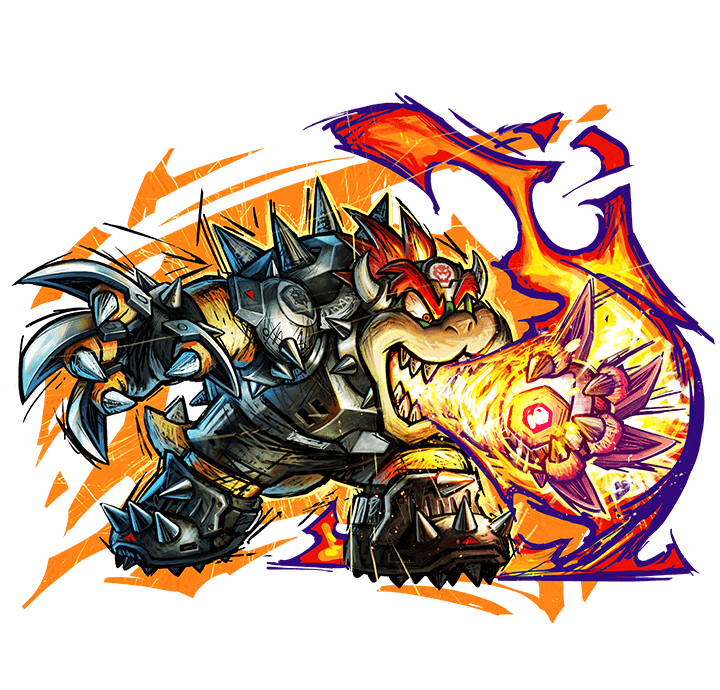 Name:
Bowser
Hyper Strike:
Flame Cannon
A powerhouse on the pitch, Bowser's shooting ability is matched only by his brutal tackles.
Name:
Rosalina
Hyper Strike:
Orbital Burst
A technical wonder, Rosalina can bend a shot round even the most resolute defensive wall.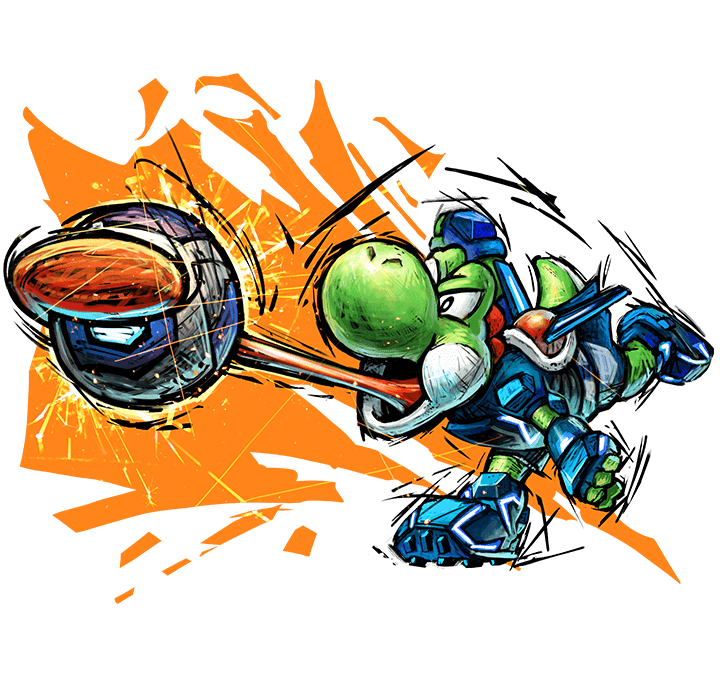 Name:
Yoshi
Hyper Strike:
Egg Stomp
Yoshi possess superb ball control, with both passing and shooting ability that'll be indispensable to any team.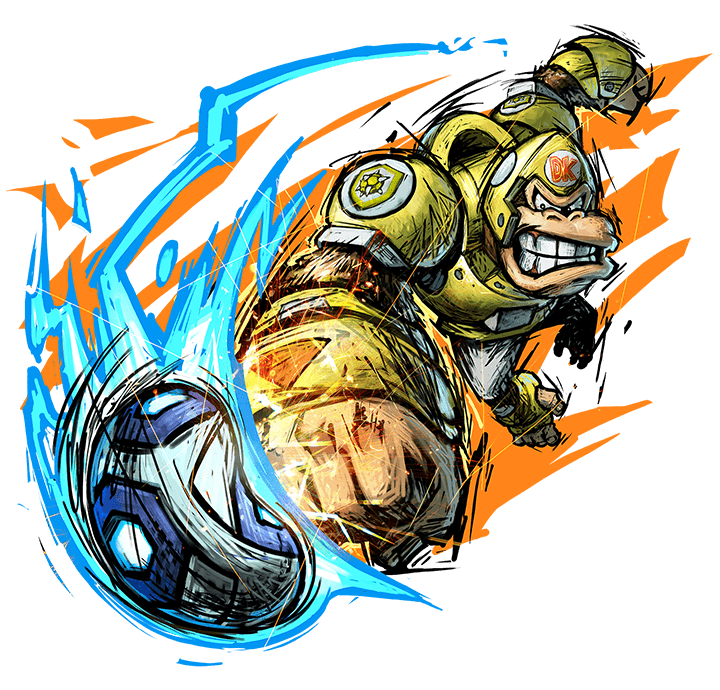 Name:
Donkey Kong
Hyper Strike:
Banana Blast
Donkey Kong's strength and passing ability make him great at winning the ball and finding a team-mate further up the pitch.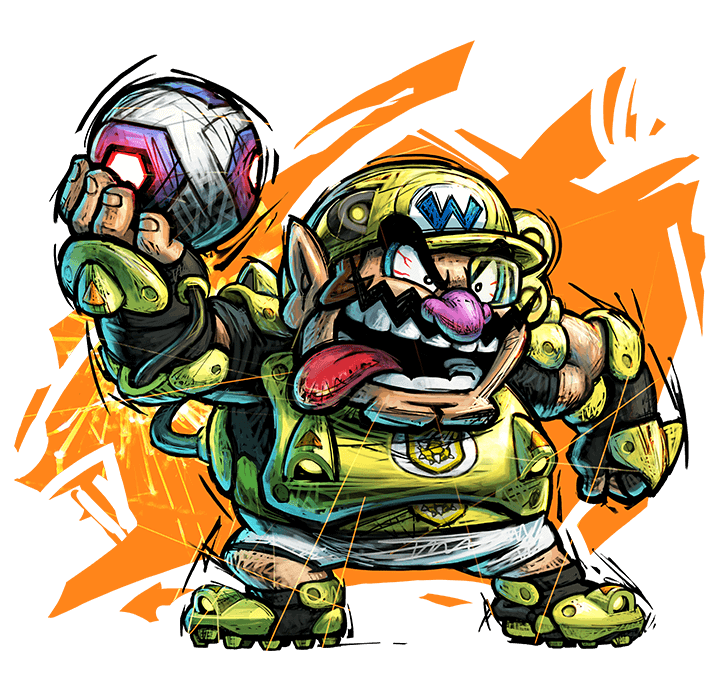 Name:
Wario
Hyper Strike:
Electric Ricochet
Wario's all about power, whether that's his shots, tackles, or his general scent.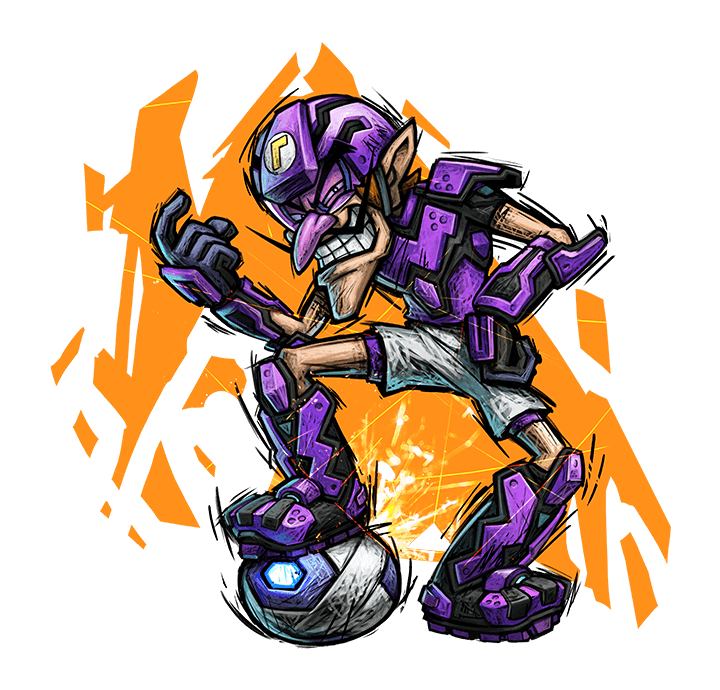 Name:
Waluigi
Hyper Strike:
Thorn Barrier
A nimble defender, Waluigi uses his high speed and technique to chase down opponents and win the ball.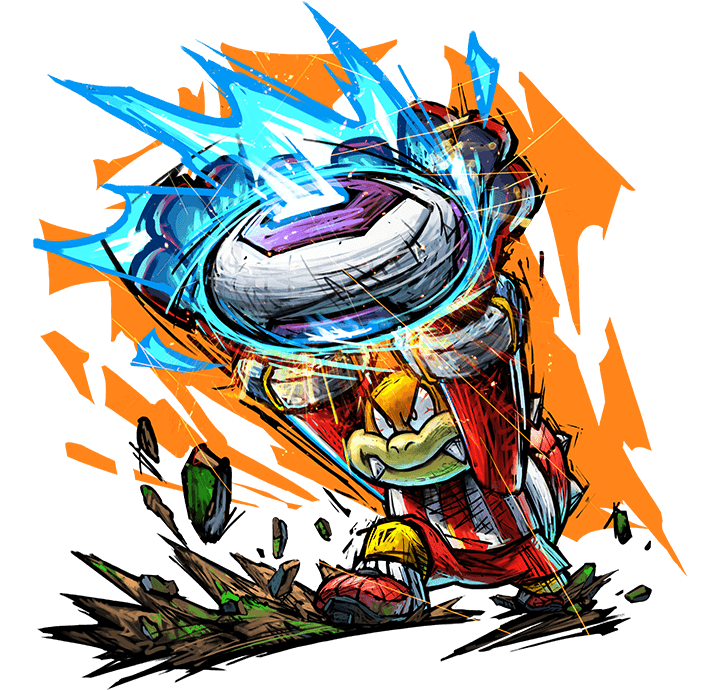 The last line of defence for any team, Boom Boom studiously attempts to keep the ball the right side of the goal-line.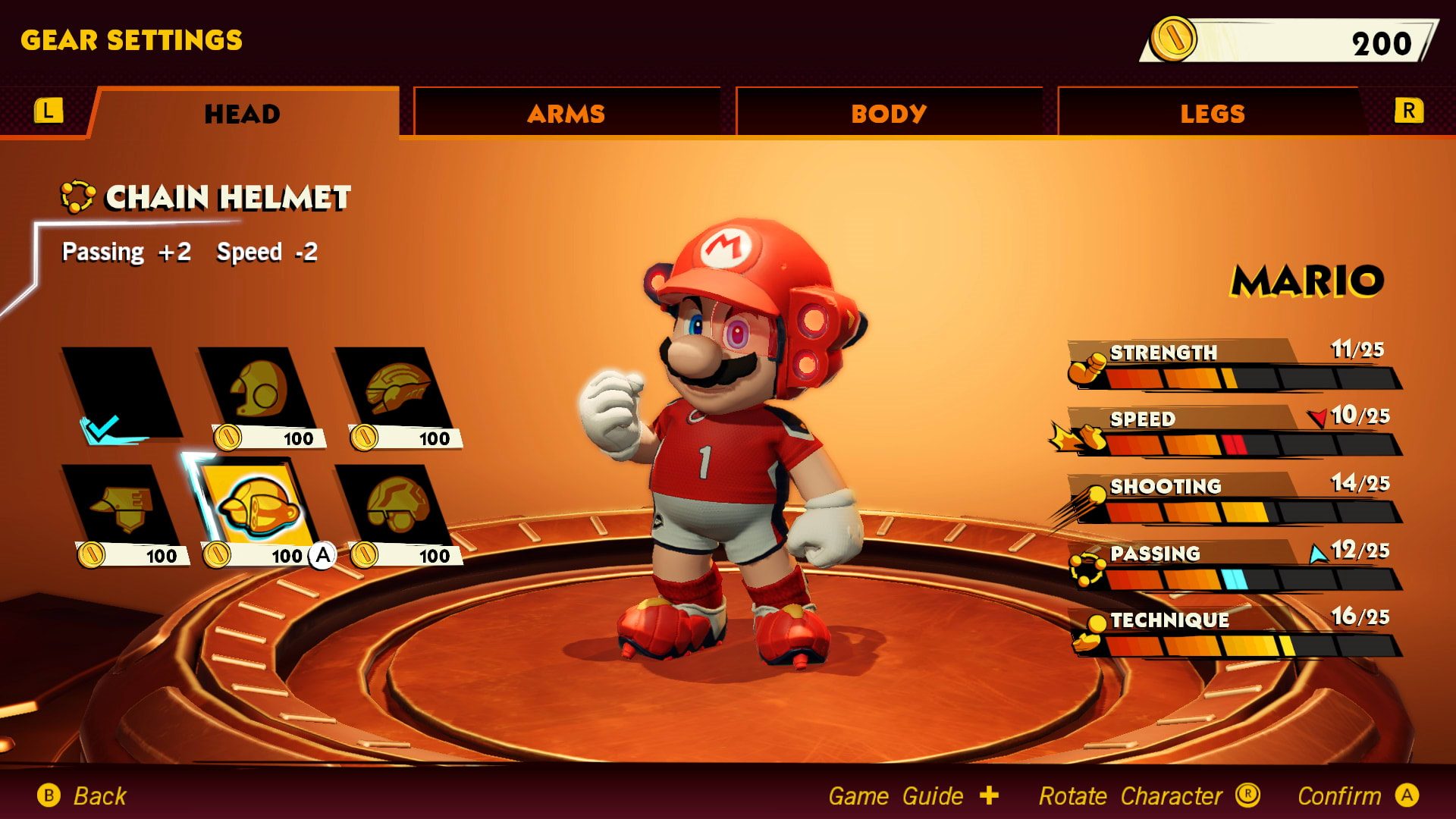 Suit up
Equipping your Strikers with different gear will not only change their look, but also tailor their attributes to suit your gameplan. Use in-game coins earned by playing matches to unlock new gear sets to don during your next fixture. Mix and match the various sets to find your ideal combination of stats and style.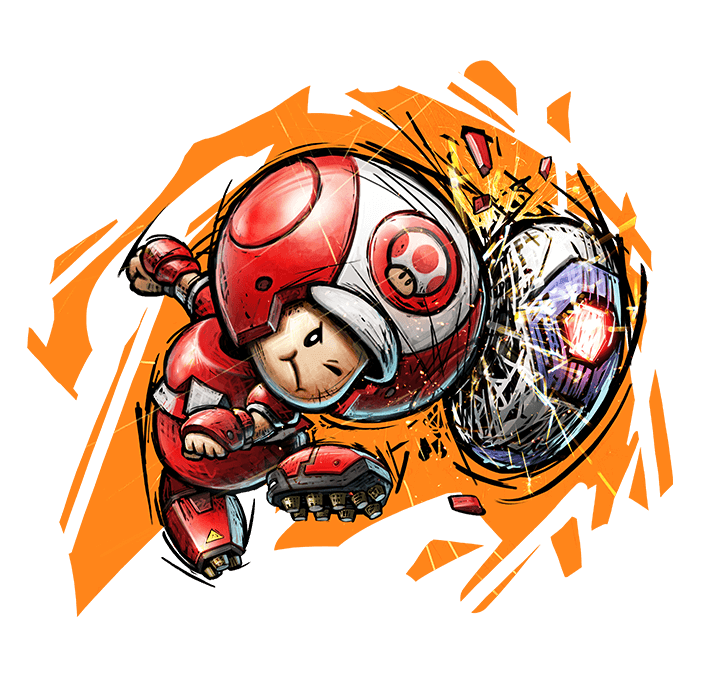 Items
Pick up a ? Block during a match and you'll receive a random item to stop your opponents in their tracks, or clear your path to goal. Here's what's up for grabs: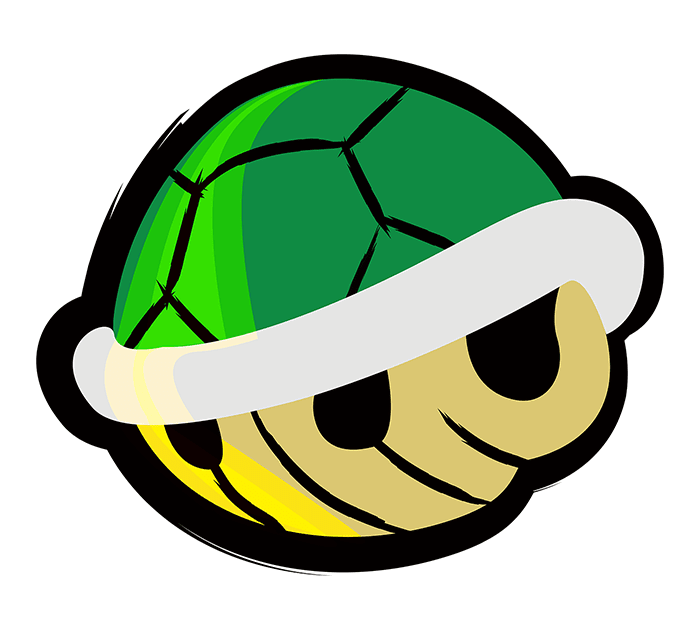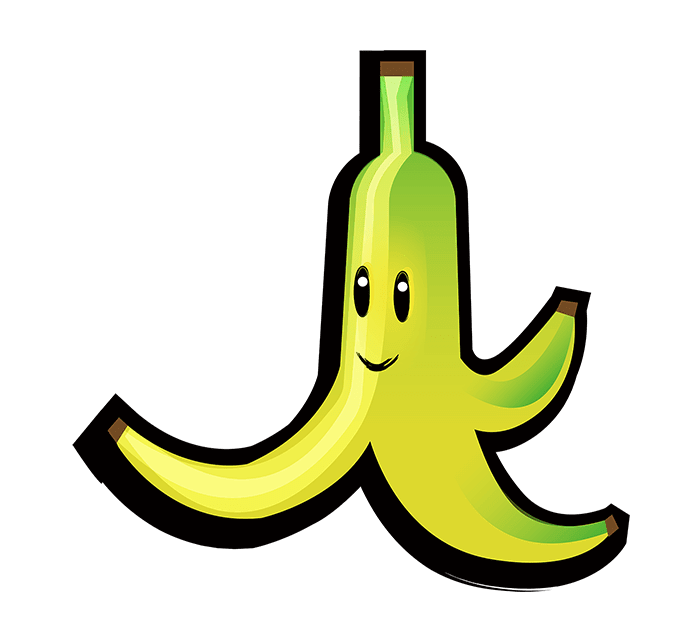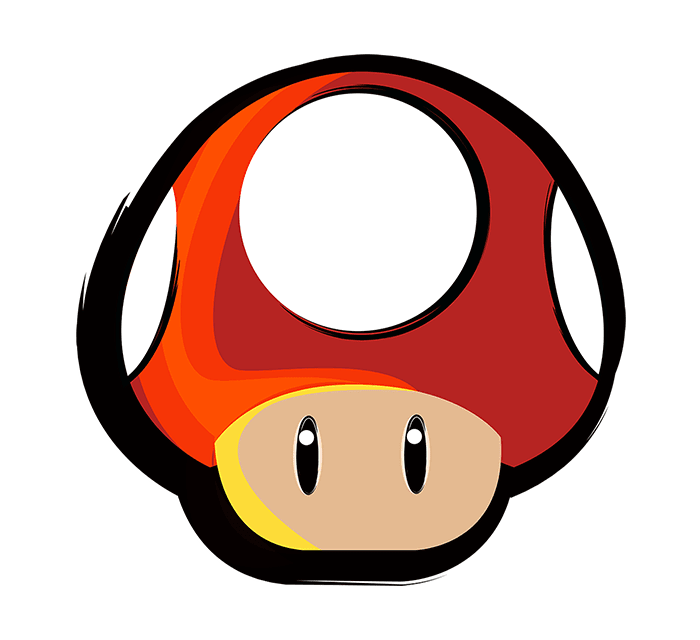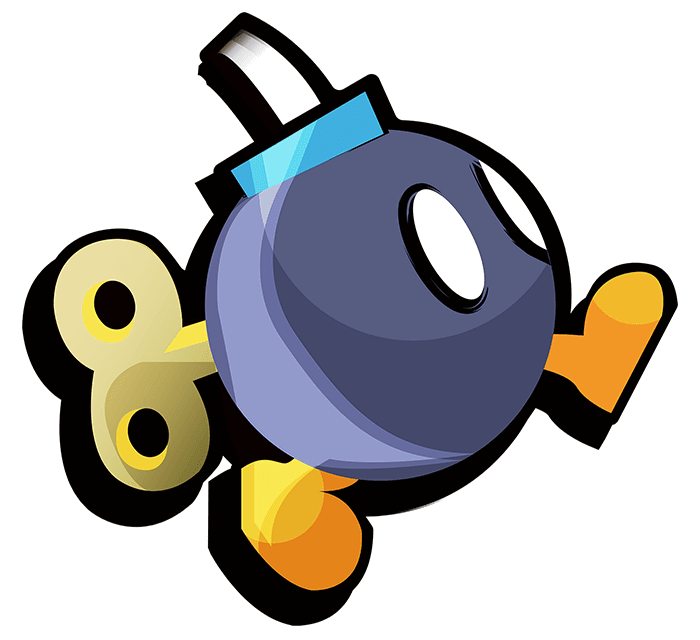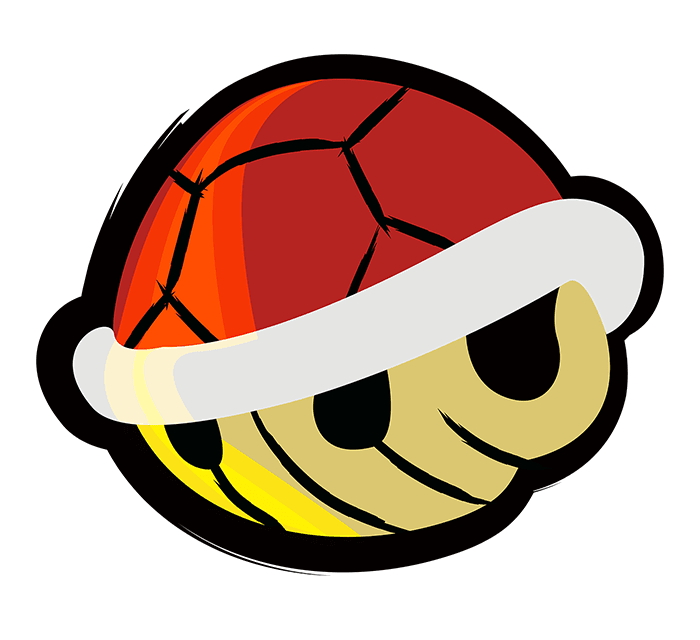 Star
Temporarily makes the Striker invincible, boosts their stats, and ensures any opponent who gets physical is roundly rebounded.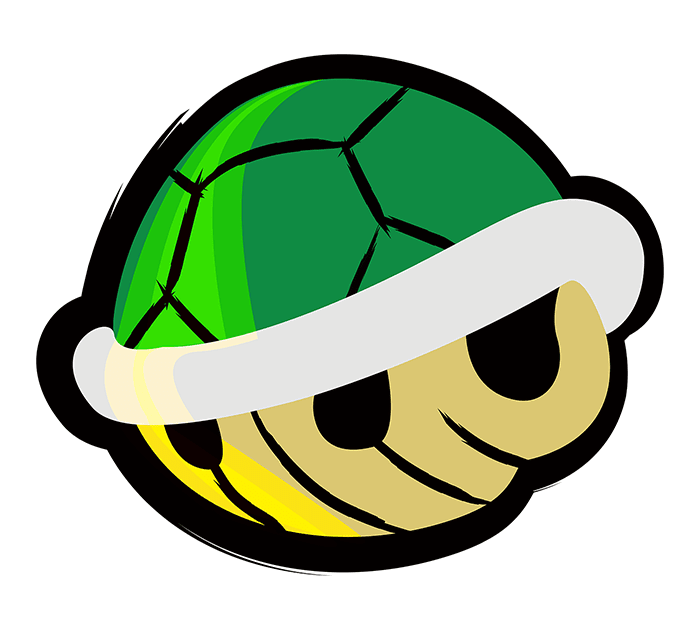 Green Shell
A Green Shell cannoning around the pitch will keep everyone on their toes (or put them on their behind).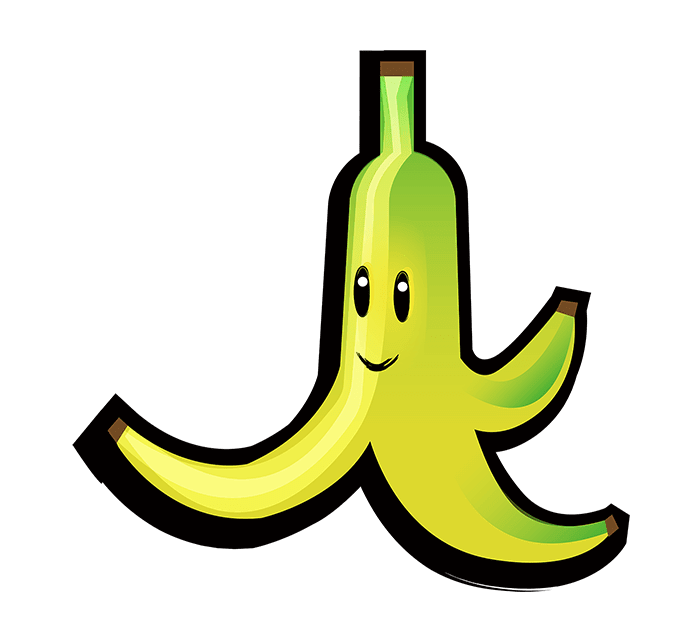 Banana
A well-placed slippy banana skin is an excellent way to stop a marauding Striker in their tracks.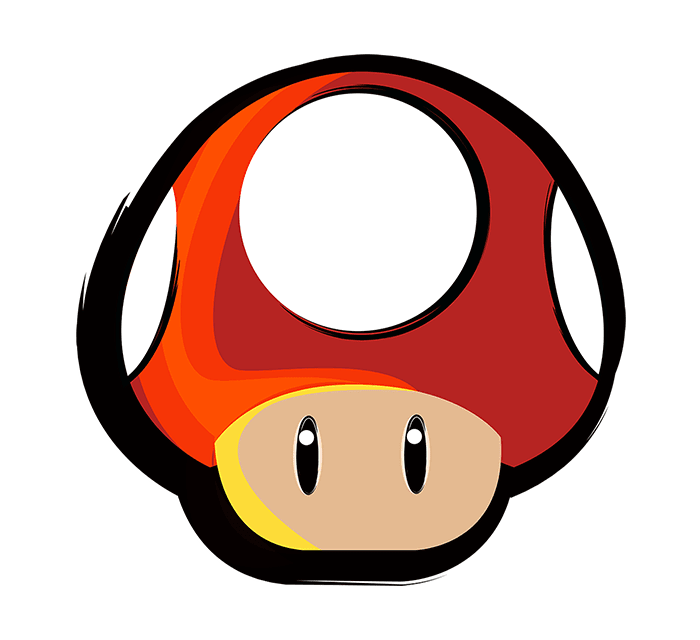 Mushroom
Use this handy power-up for a brief speed boost that could be the difference between a successful dribble and an unplanned meeting with the electric fence.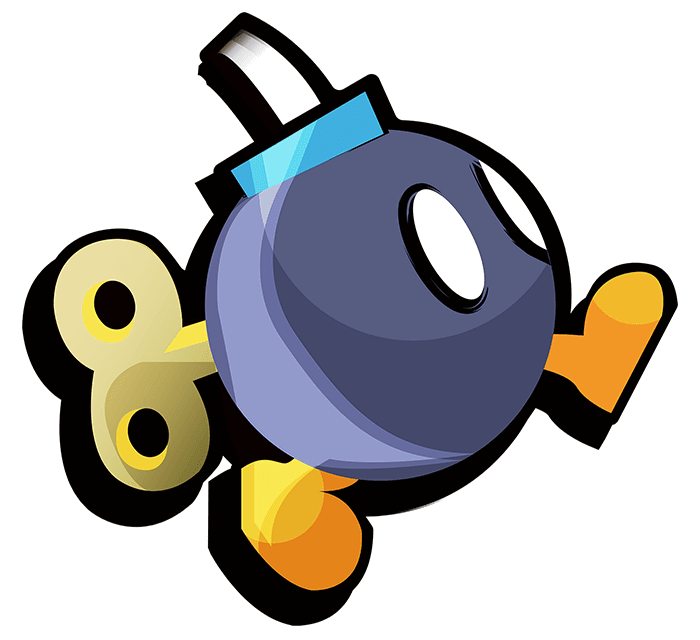 Bob-omb
Nothing says "actually, that's my ball" like an explosive lobbed in the direction of an opposing Striker.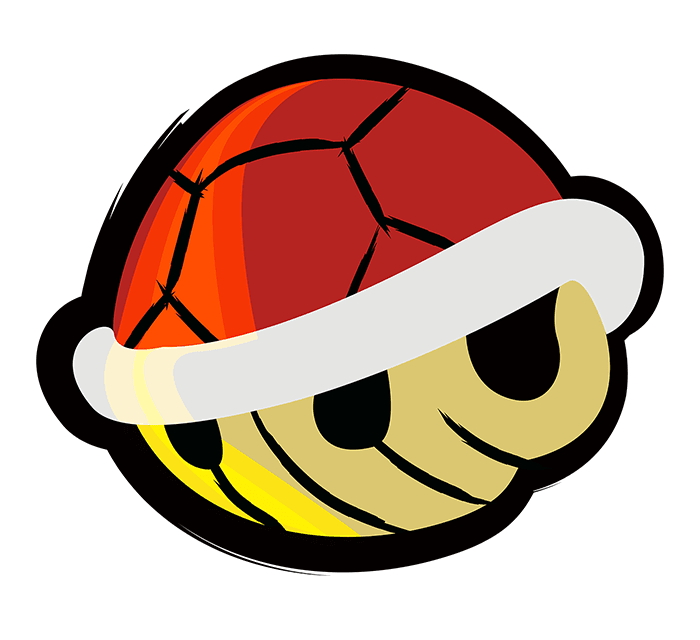 Red Shell
Nothing comes between the Red Shell and its target, not even other Strikers.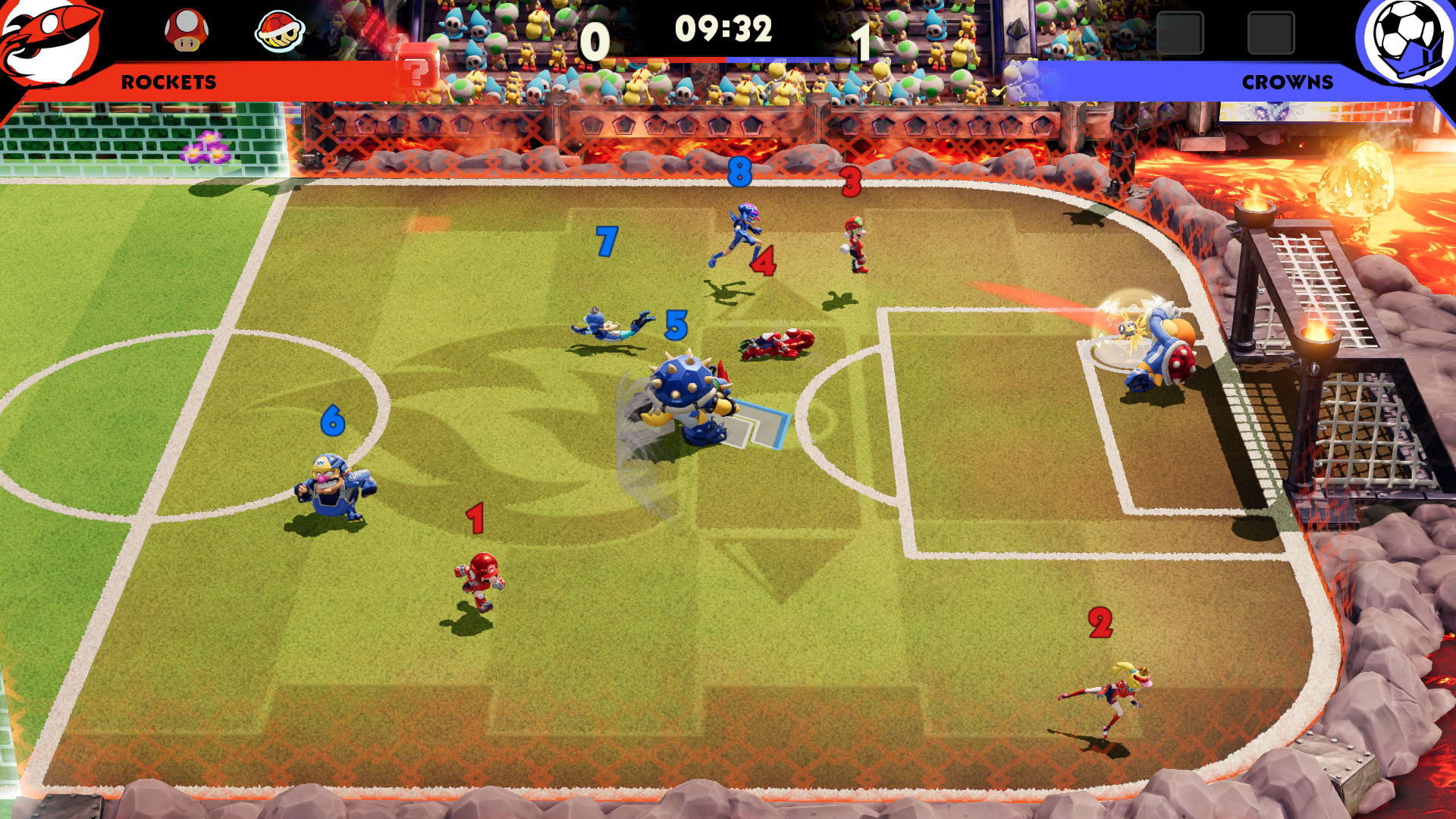 Up to eight friends can take to the field together, either around the TV on one Nintendo Switch console*, via local wireless*, or online**.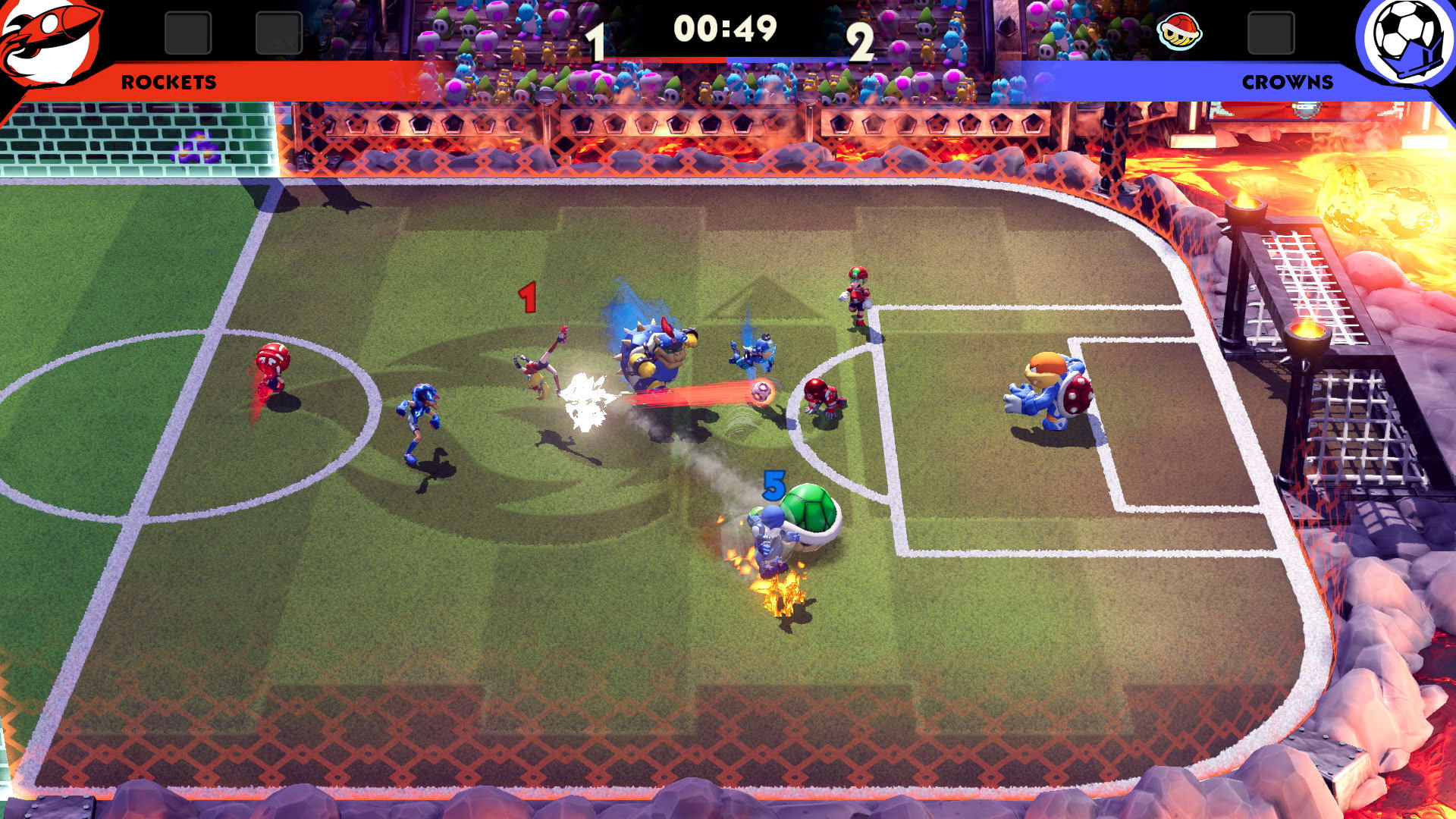 Of course, working with your teammates will be the key to victory. Utilise manual passes to play the ball into space and create scoring opportunities, or launch a teammate into opposing players with a sneaky Team Tackle and steal the ball right off their toes.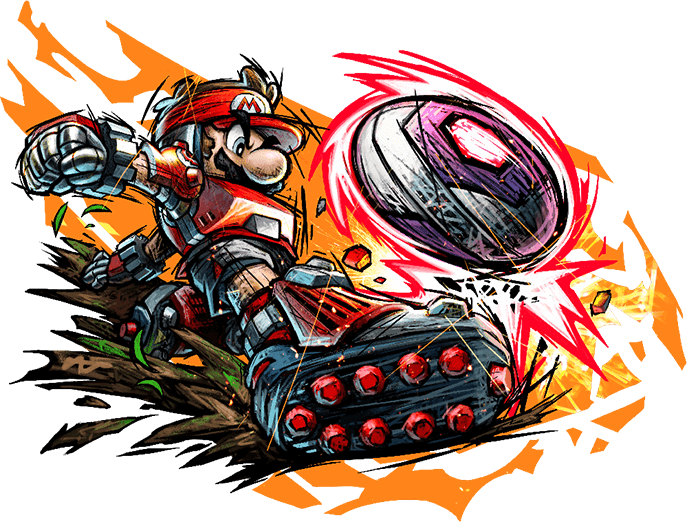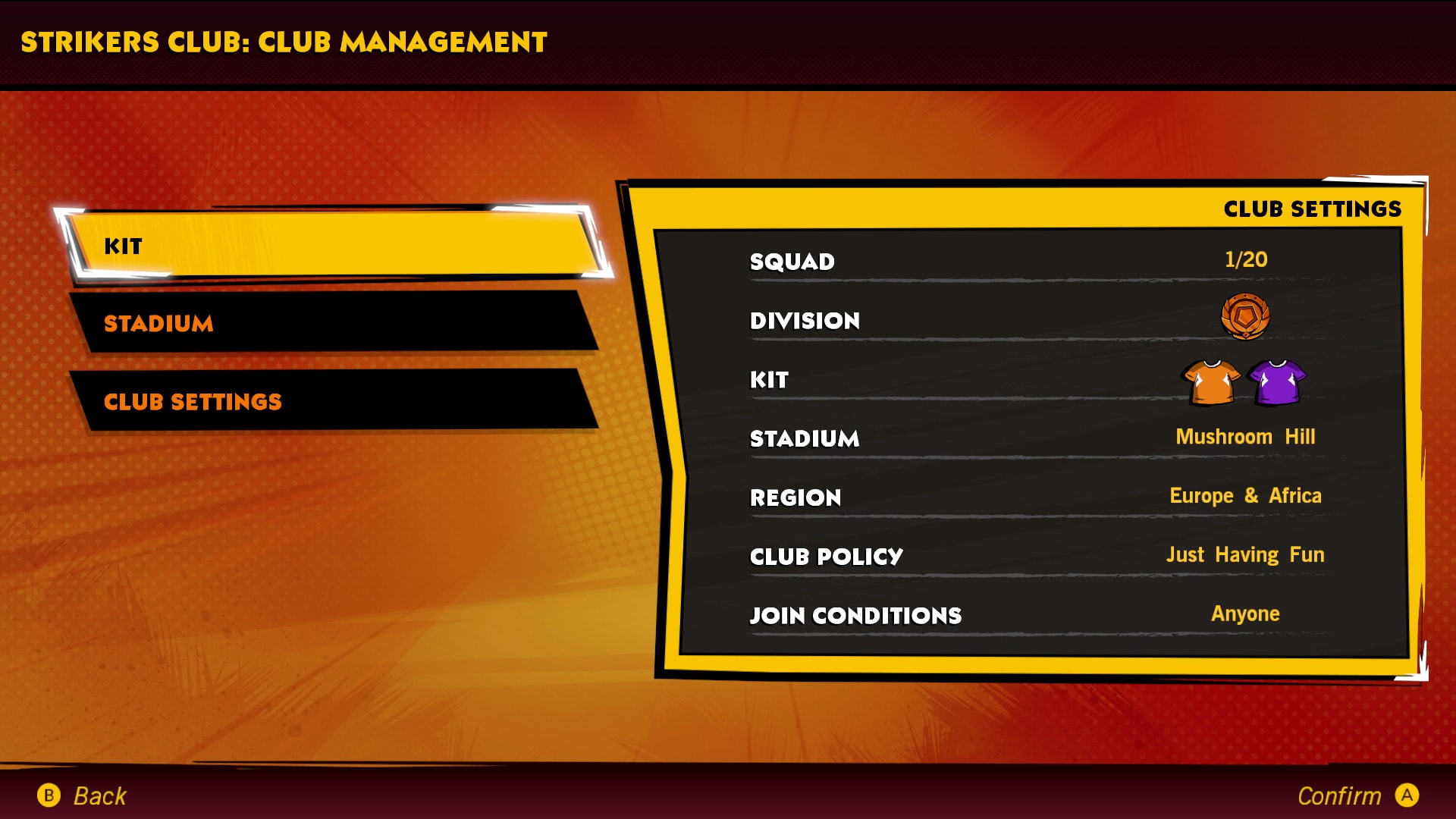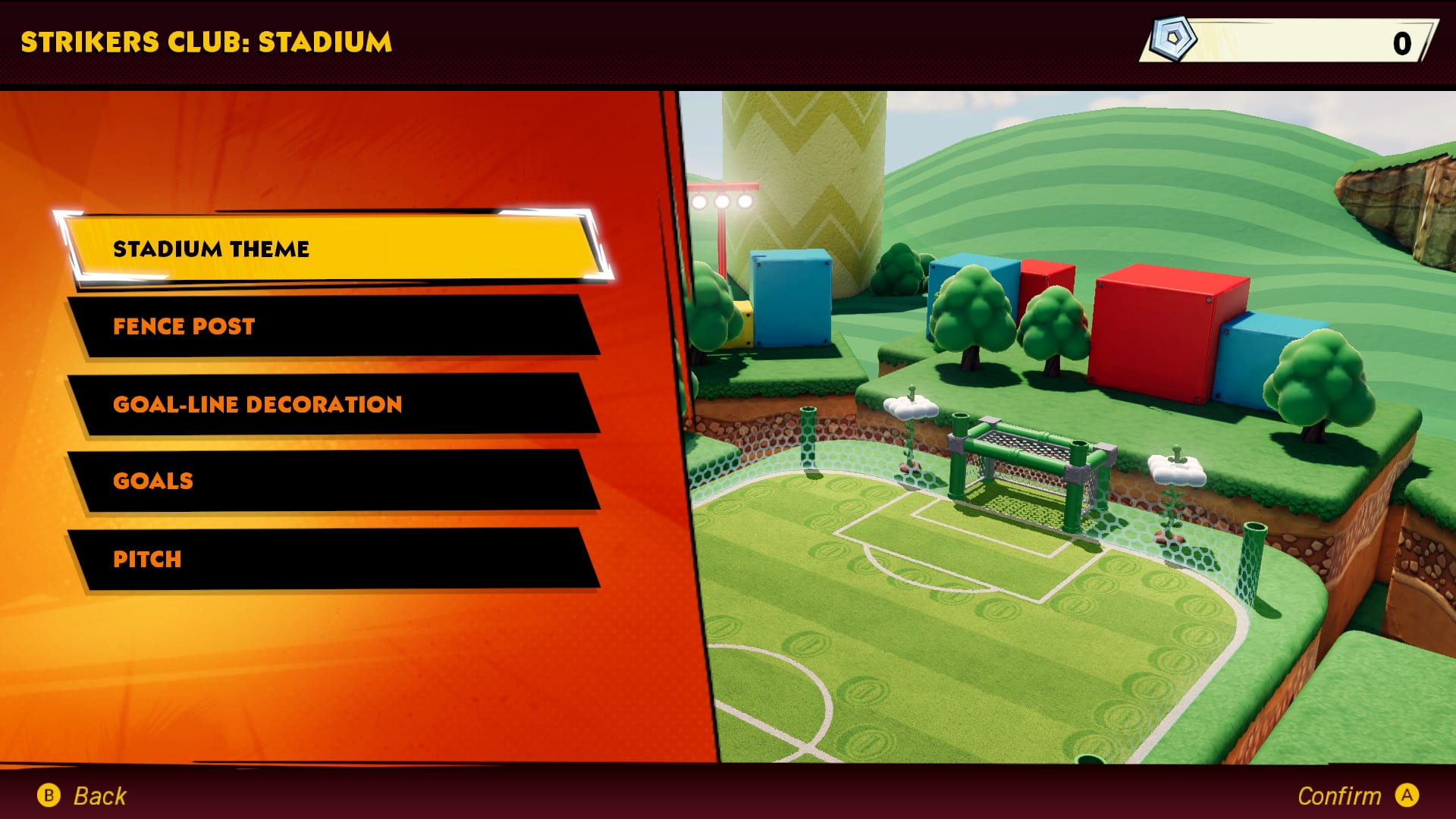 Take part in the online Strikers Club mode** and create your own club, including customising the stadium, kits, and team crest. Recruit players and compete against other clubs from around the world during week-long seasons to earn enough points to climb up the divisions.
Mario Strikers: Battle League Football – First Kick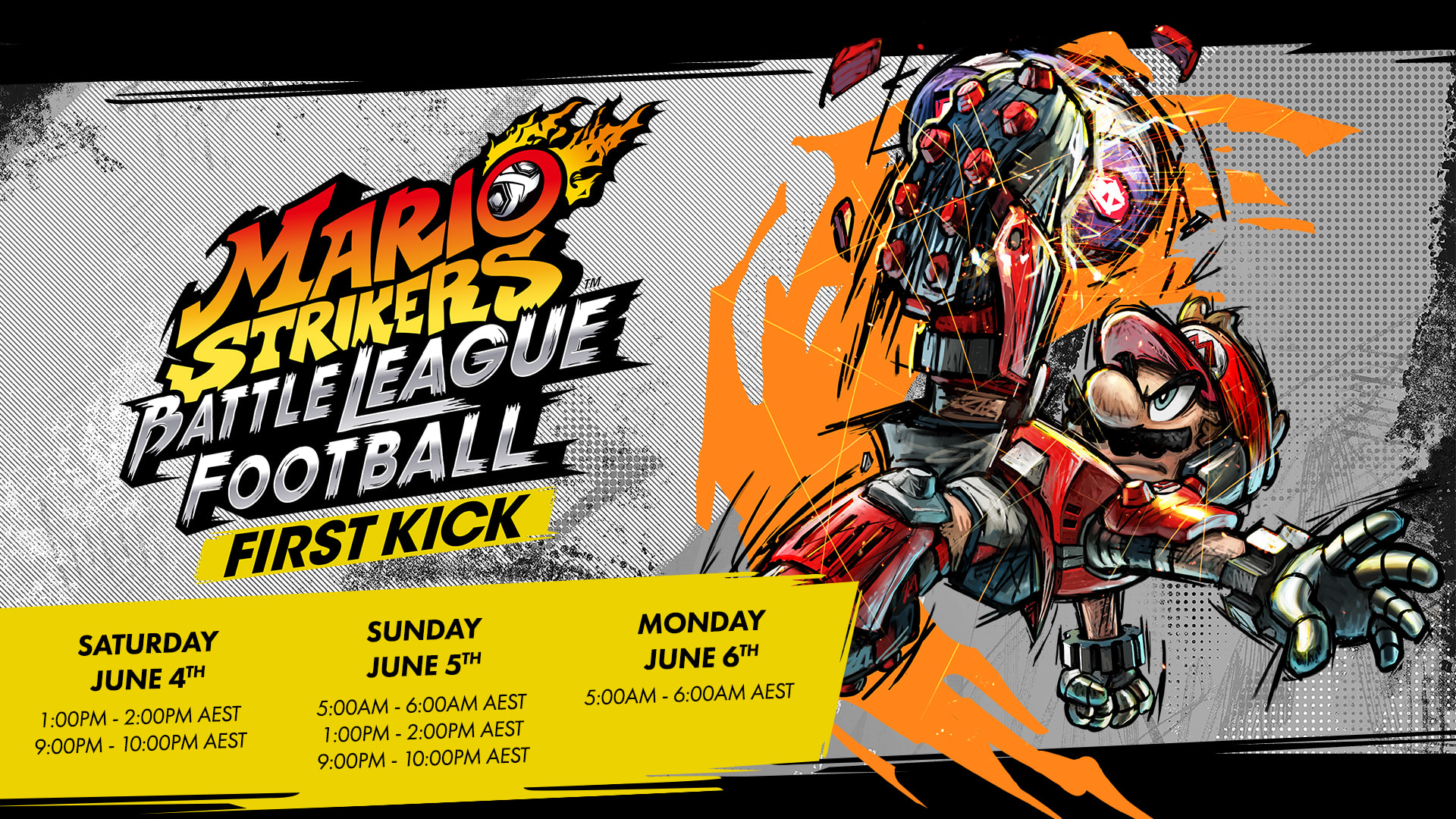 Nintendo Switch Online members can take to the pitch for a little pre-season action in the First Kick demo event! Taking place ahead of the game's launch on June 10th, you can compete in online multiplayer matches during dedicated timeslots.
Download the demo now and you'll be able to play through the tutorial mode to get up to speed with all things Strike before the event kicks off.

Participation in the First Kick is also part of the "Missions & Rewards" available to Nintendo Switch Online members. Take to the pitch during any one of the six timeslots across the weekend and you'll earn 100 Platinum Points.
When is the First Kick taking place?
You can get into the action in six one-hour sessions across Saturday 4th, Sunday 5th June and Monday 6th June:
Saturday, June 4th
1:00pm - 2:00pm AEST / 3:00pm – 4:00pm NZST
9:00pm - 10:00pm AEST / 11:00pm – 12:00am NZST
Sunday, June 5th
5:00am - 6:00am AEST / 7:00am – 8:00am NZST
1:00pm - 2:00pm AEST / 3:00pm – 4:00pm NZST
9:00pm - 10:00pm AEST / 11:00pm – 12:00am NZST
Monday, June 6th
5:00am – 6:00am AEST / 7:00am – 8:00am NZST
How many people can play?
If you want to enlist the help of a teammate, up to two players can participate on one Nintendo Switch console.
Not yet a Nintendo Switch Online member? Take a look at what's on offer:
Game specifications
No. of players
Up to 8 players
Supported languages
Japanese, English, French, German, Italian, Spanish, Korean, Dutch, Portuguese, Russian, Chinese (Simplified), Chinese (Traditional)
Supported play modes
TV mode
Tabletop mode
Handheld mode
Software compatibility and play experience may differ on Nintendo Switch Lite. Additional accessories may be required (sold separately). See support for details.
Notices
Internet connection required during online play. To use online services, you must create a Nintendo Account and accept the related agreement. The Nintendo Account Privacy Policy applies. Some online services may not be available in all countries. Online play requires paid online membership. Find out more about the paid membership subscription.
Local multiplayer requires one console and one copy of the software per player.
Multiplayer requires one compatible controller per player. Additional controllers (sold separately) may be required.