A relaxing hotel getaway... What could possibly go wrong?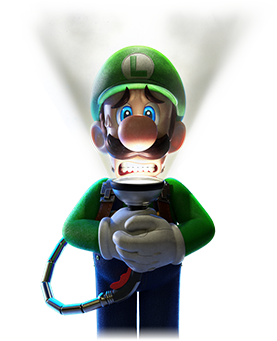 Join the cowardly hero Luigi on a ghostly – and gooey – quest to save Mario and friends in Luigi's Mansion 3 for Nintendo Switch!
You and a friend can traverse the otherworldly floors of a haunted hotel in local co-op, battling mischievous ghosts and solving paranormal puzzles together.
Welcome to the Last Resort!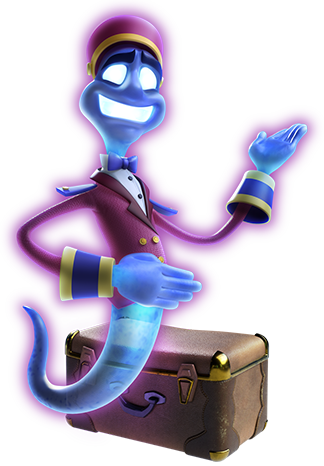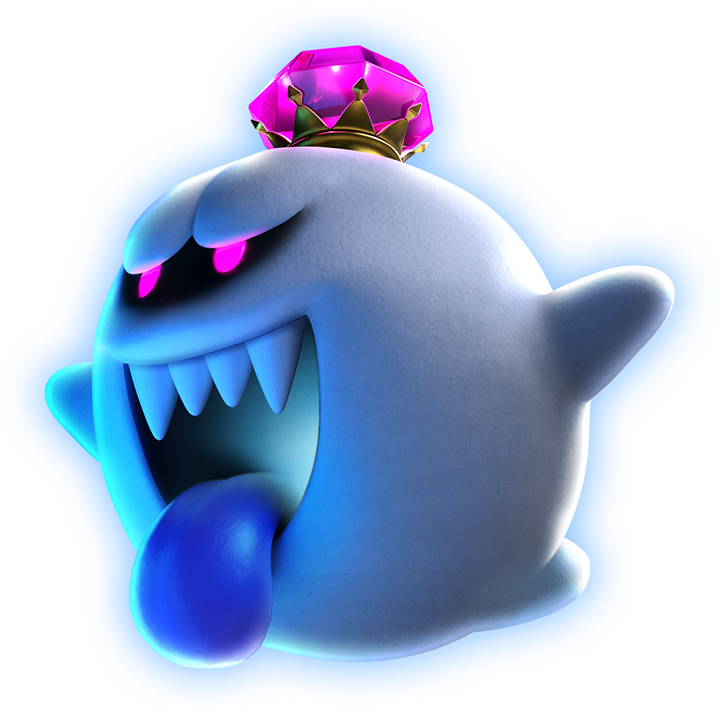 An invitation to a swanky hotel holiday with Mario and co. – how could Luigi refuse such an offer? However, this dream getaway soon turns into a nightmare when ghosts start to run amok and his royal ghoulishness King Boo traps Mario and friends inside paintings!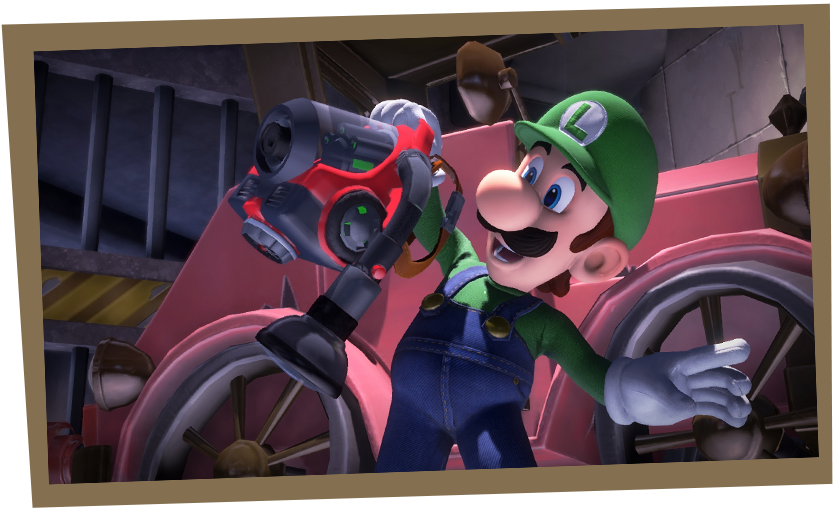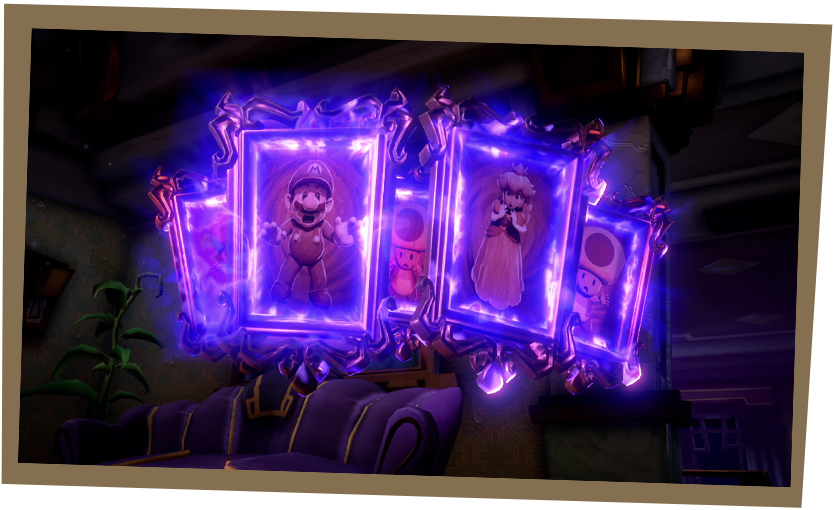 With the help of his old pal Professor E. Gadd and his latest gizmos, Luigi must suck up his fears once again to stop King Boo's wicked plans and save his friends.
You'd be surprised what attractions can be found in this hotel! From a pirate-themed restaurant to a medieval castle and even...a pyramid, each floor of the hotel has its own unique theme.
Work your way through each floor one-by-one, solving paranormal puzzles and battling trouble-making ghosts along the way.
Castle MacFrights
Ready thy lance Luigi, and prepare to duel! Avoid devious traps and sword-wielding spectres on your way to joust against the king in this medieval theme park.
Garden Suites
It's all gone to pot in this overgrown atrium. Swing on vines, dodge giant bouncing pineapples and other perilous plant life – good job the Poltergust works as a leaf blower.
Paranormal Productions
Lights, camera, BOO! Play director and see the horrors of the silver screen spring to life in this spooky film studio.
Tomb Suites
A pyramid...inside a hotel?! You better believe it. Get ready to deal with creepy mummies, fatal booby traps and sand... So much sand.
In a hotel this big, it's easy to get lost. Use the Virtual Boo to get your bearings or get some tips on your objective from its creator, Professor E.Gadd.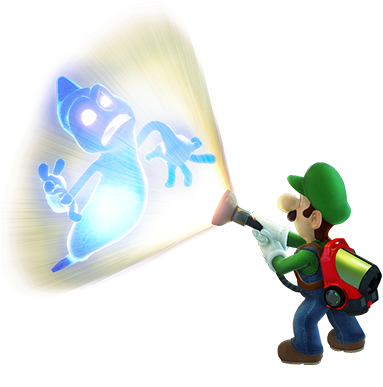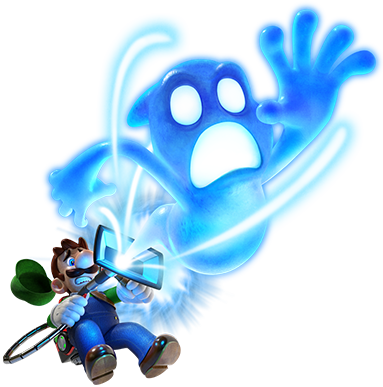 He may be cowardly, but Luigi's no stranger to a little ghost hunting – and the ghoulish guests in this hotel have overstayed their welcome!
Use the Strobulb to catch these pesky phantoms by surprise, then reel them up with your souped-up vacuum cleaner: the Poltergust G-00.
These ghosts won't go down without a fight – in fact, some have come up with crafty ways of escaping. Unfortunately for them, Luigi's got some new tricks up his sleeve too.
Slam
While trapping a ghost, slam them on the ground to inflict some damage. Try slamming ghosts into other ghosts to show 'em who's boss!
Suction Shot
Fire this plunger to attach it to something, then pull the string and...destroy furniture and more. It can also be used to wrestle shields away from defensive ghost types.
Burst
Need a bit of crowd control? Use a burst to release a blast of air to blow away nearby enemies. It gives Luigi a bit of air too, allowing him to dodge incoming attacks.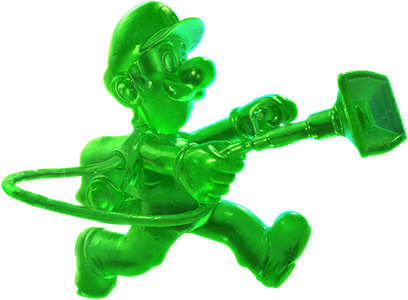 In a hotel like this, you're sure to encounter some obstacles too great for Luigi to handle by himself. In these situations, call upon Professor E.Gadd's latest creation: Gooigi!
This gooey, green doppelganger can use his...err...gooiness to squeeze through tight spaces, walk across dangerous spike-laden floors, help lift heavy objects and overcome all sorts of contraptions.
Did you know that Gooigi makes for a great co-op partner? Hand a Joy-Con controller to a friend to have them join Luigi's adventure.
Enjoy some multiplayer ghost hunting either locally or online with a trip to the ScareScraper, or go wild with up to seven other players on one Nintendo Switch console in the ScreamPark!
Please note: paid downloadable content will come to Luigi's Mansion 3 in the future, adding new content to the ScareScraper and ScreamPark multiplayer modes!
Multiplayer requires one compatible controller per player. Additional controllers (sold separately) may be required.
© 2019 Nintendo Co., Ltd.